SPFW, a sumptuous display of designs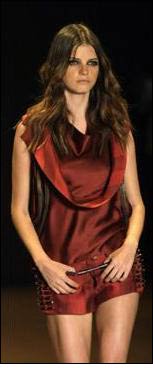 Sao Paulo Fashion Week (SPFW), which is known to bring some of the most amazing and awe-inspiring designs for fashion savvies nation wide, kicked off on June 17 stylishly. With each passing day the ramp is sizzling and dazzling, as beautiful models walk down the runway, flaunting excellent creations of established Latin American designers.

Cia Maritima, the top most beachwear brand of the country which is famous for creating exuberant designs got high appreciation from spectators this time also. The electrifying era of 1970's was the source of inspiration for the designer.

Tie and dye prints, big brass beads and huge plastic embellishments brought retro look alive on stage. As Brazil is known for its beautiful beaches, there could not have been anything better for local women, this season.

Another designer that managed to steal the attention of spectators was Fause Haten, who displayed his exclusive eveningwear collection. The designs were extremely sophisticated and were made using fabrics like silk and satin that will surely make the wearer look all the more gorgeous. The narrow cuts and folds added a dash of classiness that the designer is known for.

Triton, the urbane women wear label stuck to its status of being extremely feminine. The outfits were created by mixing floral prints with lots of layers. The lovely garments included skirts and dresses that were an instant hit among onlookers.

SPFW, has come a long way and now holds a prominent and secure place for itself in international fashion circuit.