Nordstrom offers Bernardo Green's eco-friendly suede jackets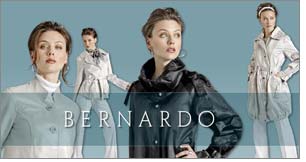 Bernardo Fashions, a manufacturer known for their innovative machine washable and machine dryable suede outerwear and sportswear, is introducing another innovation Bernardo GREEN the world's first and only collection of eco-friendly suede jackets where "green" production has been thoroughly verified and certified. No other leather company can validate this process.

The Bernardo GREEN collection of women's fashionable, eco-friendly suede jackets will launch at select Nordstrom's stores in August 2008.

"Many apparel manufacturers are talking about social responsibility," states Stuart Pollack, founder of Bernardo Fashions. "At Bernardo we are taking being "green" very seriously.

Our "GREEN" suede collection is the world's very first transparent eco-friendly suede fashion collection. With the assistance of our global partners, we have revolutionized the entire production chain creating the only totally GREEN SUEDE apparel that can be traced from field to finished product."

Bernardo insists on using skins that are purchased only from Hormel Foods, a company that breeds only U.S. animals. These animals are treated humanely exceeding USDA (United States Department of Agriculture) standards. The "GREEN" suede collection is produced from these skins which are animal-by-products.

Bernardo Green uses only biodegradable tanning agents, dyes, and finishes to tan their skins. The skins are tanned without heavy metals and with a revolutionary system that delivers fertilizer as a by-product.

The process is verified by the British Leather Council the organization that verifies and certifies "green" production. In addition, IUV, the European tannery used by Bernardo, is the world's only tannery certified by the Soil Association the organization that sets standards for marketing all organic products in the UK.

Bernardo GREEN utilizes waste free production. The water used for tanning "green" is recycled within the tannery and is drinkable once it has passed through the state-of-the-art waste water treatment facility; the remaining solid waste is converted to organic fertilizer.

All elements of design are also eco-friendly featuring nut, coconut or bone buttons, cotton lining and trim. Even the paper used in producing the unique Bernardo hangtag is a residual of the conversion. The hangtag is embedded with seeds that when planted and watered will flower California poppies.

Each garment also corresponds to an identification number that is stamped on the hangtag. Should a consumer wish to track the footprint of a Bernardo "green" suede jacket, they can do so on the website. Using the identification code, the consumer can trace the steps by which the particular style was produced.

Although the eco-friendly collection is labeled Bernardo GREEN, the line of suede jackets is available in 21 fashion colors including brown, red, and black. European flair identifies the silhouettes designed to suit the look of the times.