CFW, a celebration of exotic designs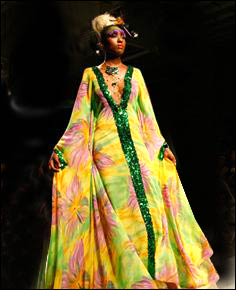 Caribbean Fashion Week (CFW), held in Kingston, Jamacia from June 11 to 16, was nothing less than a sumptuous celebration of high design, fashion and style. The show completed its eighth successful year and proved to global fashion hubs that the nation has immense talent and caliber.

Fashionistas witnessed some of the most amazing creations by upcoming as well as established designers like Toni Thorne, Shanika Burnett, Kraig Yearwood and Dave Cox. The garments that generated high applauds from the audience were worn by renowned models who added a dash of sensuality to them.

The fashion savvy Jamaicans had the privilege to get a glimpse of outstanding work done by designers who had gathered from different parts of globe. Each collection had a different theme and inspiration. On one hand bold colours were splashed on short and wild garments, on the other, long dresses in vibrant floral prints also got high appreciation from spectators.

This time CFW was not only about gorgeous garments, it was a fiesta to celebrate the creative talent that is nurturing in the country. An opulent showcase of jewellery and breathtaking accessories received rave reviews from the viewers.

One of the main reasons that draws designers to CFW is that it provides an excellent opportunity for building overseas contacts and increase their clientele list.