Flip-flop finds its way in fashionable world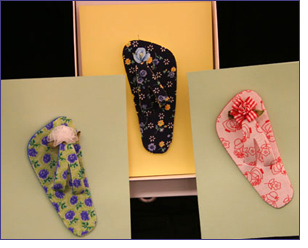 In the fast pace world where everyone is running to achieve their desired goal, footwear has surely played a vital and silent role. Today fashion has penetrated in almost all spheres of life and footwear is no exception. Take a look into the world of shoes and you can find enormous styles, shades, sizes and colours to suit your unmatchable personality.

Stilettos, beautiful ballerinas and broad platforms, all have been in rage at one time or other in international market. Even the most uninteresting flat flip-flops have now made a prominent place for themselves in the world of fashion. From being mere rubber slippers, to becoming a way of life, these jandals have surely come a long way.

One of the most amazing thing about flip-flops is that they retain their look, be it summer, rain, sand or sea. Shoe freaks have started making jandals their first preference when it comes to hitting poolside or beach.

Bright and bold colours in different shapes, sizes and prints like animal, floral and polka have always remained in great demand. Most importantly, for kids it is all about cartoon images whereas young girls choose Hawaii look.

All this does not mean that footwear manufacturers are only interested in luring gen-x. Elderly people can also find simple and sober designs in the market.

But one need not forget that style and comfort comes at price and so, once regarded as the cheapest footwear, the fashion savvy buyers now have to pay a hefty amount for functional yet high quality flip-flops.