Beaute Boutique to launch Israeli cosmetic brands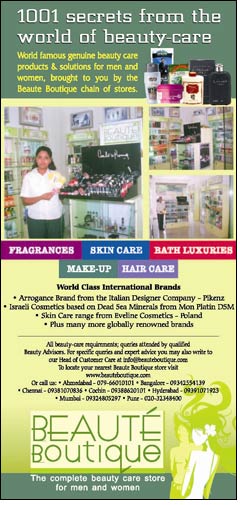 India's Beaute Boutique, the pioneer retail chain of multi-brand beauty and cosmetic products, having 11 outlets in BANGALORE has entered into an exclusive alliance with Israel's leading COSMETICS company MON PLATIN - DSM LABORATORIES which has a range of unequalled cosmetics formulated by their scientists for all who value nature's role in comprehensive skin care. These are present in over 30 countries worldwide.

By virtue of this exclusive alliance, Beaute Boutique has launched the company's world famous MON PLATIN Dead Sea Minerals Line formulated with the Dead Sea's wonder-working Salts, Mud and Minerals which are known for their near magical benefits!.

The range is available at its stores & counters in Big Bazaars in Hebbal, KSRTC, Jayanagar, Banshankari, BMTC, Old Madras Road & Whitefield, Valdel Retail Central in Basweswaranagar, Empire Store at Commercial Street, Aavikova Medicines & Cosmetics at Vijayanagar, Families Hyper Market at HSR Layout, Bangalore with many more to open up at strategic locations in the coming days.

Acclaimed for thousands of years for its remarkable powers, the Dead Sea is a unique source of health and beauty. Concealed in its depths at the lowest point on earth are dense concentrations of minerals that have accumulated over millions of years.

Richer than any other natural source in the world, the Dead Sea's mineral diversity includes huge amounts of potassium, magnesium, sodium, calcium and chloride and many other beneficial minerals.

Since ancient times the fame of the DEAD SEA has attracted streams of visitors from every point of the compass! All have benefited from its beautifying effects on the skin. Indeed Beauty Care Products - Mon Platin DSM – Millions of years in the making

The DSM range launched in India consists of Facial Care, Body Care, Hair Care, Anti-Aging, Anti Wrinkle and Psoriasis products as well as many others.

Says Zuhair Nabee, CMD of Beaute Boutique: "Beaute Boutique is proud to be instrumental in bringing the MON PLATIN DSM Range into India.

Mon Platin's basket of products catering both to Men & Women would be an ideal fit for the Indian market. The DSM range enables one to experience in the privacy of their own homes, preparations that combine this great gift of nature, with sophisticated technology and most advanced cosmetic science.

Also all products in our stores are tested for their efficacy and efficiency by our in house QUALITY ASSURANCE department". Adds Nabee, "We plan to tap the huge latent market for such products through similar exclusive tie-ups and we invite our Indian patrons to visit any of our over 55 BEAUTE BOUTIQUE counters or stores (and the network is fast growing! ) to try these world class products".

The organized Beauty Care products segment is growing at 15-18% annually but the market for imported premium /high end products is growing at over 35% annually and hence offers great scope for growth.