Kao to launch SOFINA Primavista in September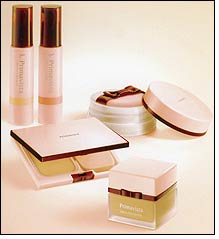 Kao Corporation (President and CEO: Motoki Ozaki) announces Kao Sofina's nationwide release of a new base makeup brand, SOFINA Primavista, for sale in Japan on September 1, 2008. This brand is designed to make expressions on female faces lively and bright. Five variants of 18 items will be offered.

Many Japanese women in their late 20s to 40s show strong desire to present themselves as younger than their actual age. A Kao survey shows that some 70% of females guess other people's age by judging facial skin texture. Therefore, SOFINA Primavista, which promotes 'younger facial skin' and a young-looking first impression, was developed to target the needs of these women.

With SOFINA Primavista, Kao R&D focused on how facial appearance is viewed by others as younger, not simply on how effectively facial spots and pores visible in a mirror 15 centimeters away are covered. Kao's proprietary image analysis reveals that a smooth facial skin surface, free from shadows caused by wavy contours, is the secret to presenting a younger facial appearance than actual age.

Kao's newly developed "Face Lamp Powder" effectively allows more light to be absorbed by the inner skin. This allows more light to be broadly dispersed at the skin's surface; the effect is that shadows on the skin surface disappear. SOFINA Primavista provides a smooth and radiant skin texture and a younger facial appearance.

Two Japanese actresses, Ms. Miho Kanno and Ms. Haruka Igawa, have been selected as spokespersons for SOFINA Primavista. They are natural, gracious personalities whom target consumers wish to emulate, especially in the sense of perception about their skin.

SOFINA Primavista will be the second core brand under SOFINA, following SOFINA beauté, launched in January 2008. SOFINA consistently pursues 'real beauty' and 'real quality' to support each individual consumer for their beautiful tomorrow.

Brand Naming:
'Prima vista' means 'first look' in Italian. The brand naming reflects the zest SOFINA produces: lively and bright first impressions for all females.

Package Design:
The package design - a small box in pink beige, which symbolizes the brilliance in skin, tied carefully with a ribbon in mocha brown - was created with the concept that the purchaser may perceive each product as an intimate gift to herself; a present that enhances her unique beauty.

Technological Features:
Newly developed "Face Lamp Powder" creates younger first impression - ensuring smooth, radiant skin for younger facial appearance - and wavy shadows on aging skin disappear naturally

Kao analyzed 161 female facial images to study key factors that affected younger and older facial appearance. Using imaging software and technologies, Kao researchers set facial structures (e.g., contours of the eyes and nose) as standardized variables to help them clearly analyze skin texture. The research discoveredthat facial skin texture affects youthful facial appearance regardless of a person's true age.