Dayana Mendoza wins Miss Universe 2008 contest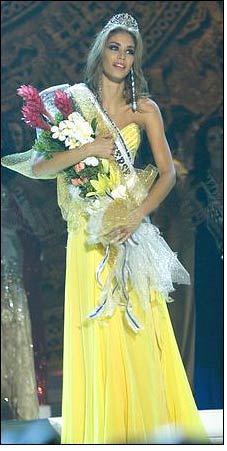 This evening, during one of the year's most exciting live international television events, a star-studded panel of judges chose Miss Venezuela, Dayana Mendoza, as MISS UNIVERSE 2008 live from the Crown Convention Center in Nha Trang, Khanh Hoa, Vietnam.

Ms. Mendoza is 22 years-old and her career ambition is to become an Interior Designer. She also enjoys photography and is interested in advertising.

The judging panel for the 2008 Miss Universe Pageant included: Donald Trump Jr, Executive Vice President of the Trump Organization; fashion designer and entrepreneur Roberto Cavalli; Nadine Velazquez, international cover girl and star of NBC's "My Name Is Earl"; Jennifer Hawkins, television presenter and Miss Universe 2004; Louis Licari, celebrity colorist and "Today Show" ambush makeover expert; Joe Cinque, President of the American Academy of Hospitality Sciences; Bollywood film & TV star, dancer, model Eesha Koppikhar; Nguyen Cong Khe, Editor in Chief of Thanh Nien newspaper and international shoe designer Taryn Rose.

Jerry Springer and Mel B hosted the telecast of the 57th Annual Miss Universe competition where Lady GaGa performed her hit "Just Dance".

Throughout the two-hour event, contestants from 80 countries and territories around the world competed in three categories: swimsuit, evening gown and personality interview.

Riyo Mori, Miss Universe 2007, crowned her successor at the conclusion of the two-hour primetime telecast, before an estimated worldwide viewing audience of more than 1 billion viewers.

Final Results:
First Runner Up: Miss Colombia, Taliana Vargas; will assume the duties of MISS UNIVERSE 2008 if the titleholder for some reason cannot fulfill her responsibilities.

Second Runner Up: Miss Dominican Republic, Marianne Cruz Gonzale.

Rest of Top Five: Miss Mexico, Elisa Najera; and Miss Russia, Vera Krasova.

Rest of Top Ten: Miss Kosovo, Zana Krasniqi; Miss Australia, Laura Dundovic; Miss Spain, Claudia Moro; Miss USA, Crystle Stewart; and Miss Italy, Claudia Ferraris.

Rest of Top Fifteen: Miss Vietnam, Lam Thuy Nguyen; Miss South Africa, Tansey Coetzee; Miss Japan, Hiroko Mima;; Miss Hungary, Jazmin Dammak; and Miss Czech Republic, Eliska Buckova.

National Costume Award: Miss Thailand, Gavintra Photijak. The general public voted for the international delegate whose national costume best reflected her country's culture, originality in preparation and the delegate's personal demeanor. She received a $1,000 cash prize and a trophy from Rogaska Crystal.

Miss Congeniality Universe Award: Miss El Salvador, Rebeca Moreno. This award reflects the respect and admiration of the delegate's peers, who voted for her as the most congenial, charismatic and inspirational participant. She also received a $1,000 cash prize and a trophy from Rogaska Crystal.