First ever International jewellery fair of South India in Hyderabad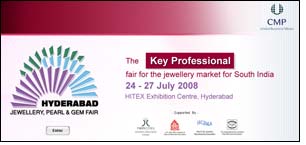 There's excitement in the air as the Hyderabad Jewellery, Pearl & Gem Fair 08,(HJF) comes to Hyderabad. If you are wondering what the buzz is all about, this will be the first ever largest international Jewellery fair in South India and will bring the best of Indian and International Jewellery under one roof.

Over 150 exhibitors occupying 250 booths are spread over 10000 sqmtrs, of show floor. HJF has special group pavilions from Thailand and Hong Kong.

Apart from India over all HJF has confirmed participation from 15 countries and regions including Taiwan, Italy, Burma, Japan, Belgium, Israel, Turkey, Belgium, and Middle East.

"South India is not only the country's major consumer market for Jewellery of all types but also a major manufacturer of Jewellery and a Gem and Pearl processing and trading centre, with long-established national and international centers.

HJF'08 also aims to provide an international platform for buyers and sellers of fine jewellery, pearls, diamonds, gems and other precious materials to meet at the peak of the buying cycle of the festive season," says M. Gandhi, Managing Director, CMP India (UBM India) the organizer of HJF '08.

When it comes to fine jewellery in South India, Hyderabad is one of the first cities to come to the mind. And for good reason, the exquisite Nizam's jewels rank amongst the world's finest.

The city is also known for its rich craftsmanship and rare and exquisite gemstone and pearl Jewellery. Some of the world's most famous diamonds like the Kohinoor, Regent and Hope are from Andhra Pradesh.

South India is the biggest jewellery market in the country and Hyderabad with its infrastructure and facilities is the ideal location for the Hyderabad Jewellery, Pearl & Gem Fair, (HJF'08).

The exhibition is scheduled from the 24th to 27th July, 2008 at the HITEX Exhibition Centre. It will coincide with the onset of the festive season and is bound to attract thousands of visitors from India and overseas.

What makes HJF'08 unique is that it will be both a B2B as well as a B2C event and will cater to both the targets. It will function as an international trading platform which will facilitate domestic and overseas jewellery, diamond, pearl and gemstone suppliers to meet key buyers and open up new vistas of opportunities.

The show will offer an opportunity to view a large range of jewellery from India and overseas right here in south of India. An international delegation from China and various countries are already confirmed to visit the event.

Besides the domestic jewellery associations, have also confirmed their member are planning to visit the event in large numbers to strike suitable business partnerships.

For the consumer, this will be an opportunity to discover a whole new world of designer jewellery in fascinating designs and styles like never before. They will be able to pick world class jewellery showcased in a luxurious setting where they can shop in comfort.