Designers to showcase A/W collections at Air NZFW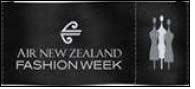 New Zealand's top established and emerging designers, plus the first Australian import designer are set to show at Air New Zealand Fashion Week 2008. At the Designer Announcement this afternoon (18th July), all eyes were on the designers who made the cut to showcase their Autumn/Winter Collections at the eighth annual Air New Zealand Fashion Week.

At the plush surroundings of The Westin Hotel, Air New Zealand Fashion Week Managing Director Pieter Stewart proudly announced a long list of designers who will lead New Zealand's fashion industry at Auckland's Viaduct Harbour Marine Village from 16-21st September 2008.

Many of New Zealand's crème de la crème fashion designers were selected such as Trelise Cooper, Annah Stretton, Yvonne Benetti, Hailwood, World, Zambesi, Huffer, Karen Walker, Nom*D, Stolen Girlfriends Club, Cybèle and many more. Plus Australian designer KIRRILY jOHNSTON will make her New Zealand debut, establishing what Pieter Stewart hopes will become an ongoing Trans–Tasman fashion exchange.

The well established labels were complemented by a long list of fresh emerging New Zealand labels such as Stitch Ministry, Michael Pattison, NYNE, Sable & Minx and Emma Wallace.

Air New Zealand Fashion Week Director Pieter Stewart is pleased with the list of Kiwi Designers who are so far confirmed at this year's event.

"Air New Zealand Fashion Week is excited to welcome such a strong list of established New Zealand designers, complemented with a promising selection of emerging fashion designers. Our weeklong event provides an ideal platform for New Zealand designers to showcase their collections to New Zealand and the world. It also allows an excellent opportunity for many facets of the fashion industry to creatively and passionately work together," says Managing Director Pieter Stewart.

Now 8 weeks away from the big week and with some designers still under negotiation for shows, the list of designers to date includes approximately 50 fashion designers and 42 individual shows, along with the ever popular Verge Breakthrough Designer Show.

"Air New Zealand Fashion Week has significantly raised the profile of the fashion industry and created many off-shoot industries developed through Air New Zealand Fashion Week itself. A lengthy list of fashion related businesses such as modeling agencies, stylists, PR agencies, showrooms, fashion media, sponsorship brands, hairdressers and make-up artists all flourish as a result of Air New Zealand Fashion Week and the seasonal injection of business," says Stewart.

This year anyone who misses out on seeing shows during the four trade days can head down to Air New Zealand Fashion WEEKEND which is open to the public. The new simplified format will see Fashion WEEKEND fall on the Saturday 20th and Sunday 21st of September. Event organizers expect the change to the weekend days should make it more accessible for everyone to come down and enjoy this premium fashion and entertainment event.