Takumi collection replicate jeans worn a century ago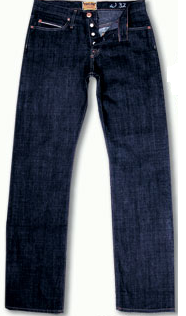 The latest and stylish Spring/Summer 2009 collection of Takumi, will be showcased for three days, ending on July 23 at the New York Collective. The entire range of garments for men comprises of exclusive denims, sophisticated shirts that are handcrafted in small numbers in Japan, along with an organic clothing line.

Takumi is the Japanese name for artisans, and this limited range at display, is designed by craftsmen of Japan who seek perfection and pay lot of attention to minute details that gives garments a distinctive and individualistic look. The jeans are made using selvage denim which is woven on antique wooden shuttles in Okayama.

The denim trousers are created using the age old methodology, to replicate the jeans that were worn a century ago. In the S/S collection there is immense variety to select from including vintage wash, lightweight stretch and organic denims which are available in shades of blue and green.

Even the classic yet chic shirts are made with hand rolled canvas collars. Interesting contrast is done on the cuffs, which have been embellished with shell buttons. Merely 500 trendy and perfect fit shirts are being designed for this collection.

Luis Pedroza is the designer and founder of Takumi label, which has diverse designs that ooze freshness. In his latest collection Luis has brought together two different elements, namely rich and traditional Japanese textile traditions and perfect European tailoring.