1st Intl Jewelry Fair ends successfully on a high note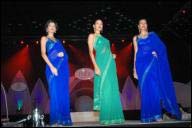 The curtains finally came down on the much awaited Hyderabad Jewellery, Pearl & Gem Fair 2008 organised by CMP, which brought to an end 4 days of intense business interactions between exhibitors, trade visitors and buyers, both from India and overseas. 10,223 visitors attended the exhibition from throughout India.

The Hyderabad Jewellery, Pearl & Gem Fair 2008 was inaugurated on Thursday, 24 July by the Hon'ble Dr (Mrs) J Geeta Reddy, Minister for Major Industries, Govt. of Andhra Pradesh.

Speaking to the press persons after the inauguration she said the fair would provide an opportunity to entrepreneurs to learn about the global trends of the industry.

She added that the state government was setting up an exclusive jewellery mall in Banjara Hills, Hyderabad with all modern amenities and requested the industry players to utilize this opportunity.

Leading exhibitors from India and overseas showcased the most exquisite fine finished jewellery, pearls, diamonds, gems and other precious stones at the HITEX Exhibition Centre.

A vast range of international designs were on display at the fair including diamonds from Antwerp and diamond-studded jewellery from Thailand & Hong Kong.

A jewellery encrusted car from an overseas exhibitor was a special attraction with crowds thronging to catch a glimpse of it.

Another overseas exhibitor displaying wellness jewelry had such a fantastic response that they had booked all products on display and were only very happy to book further orders.

The first two days saw a steady stream of trade visitors and High Net Worth Individual's who were keen to know about the latest designs in fine jewellery crafted out of the finest diamonds, pearls, gold, gems, precious and semi precious stones.

All the major Jewellery Associations from South India were there in full strength with their member delegations in large numbers and they were very impressed with the wide variety of jewellery on display, both form India and overseas.

These delegations were very well received by the exhibitors who ensured that the delegations spent their time fruitfully.

Over the next 2 days, visitors came in large numbers and were very excited and impressed with the innumerable choices and a wide range of designer jewellery in fascinating styles that were on display at a single location.

By the end of the closing day, many exhibitors went home with good business done and were very optimistic that the contacts made at the fair will translate into firm business deals.

Cine and other celebrities also added sparkle to HJF'08 and left with lasting impressions of the high quality and wide variety of jewellery on display at the fair.

Speaking on the occasion, Mr M Gandhi, Managing Director of CMP India, the organisers, said, "We definitely intend to make this an annual feature.

Our intentions are very much to have alongstanding relationship with the jewellery fraternity here in India."