Robeez to maintain its leadership in Core Infant Shoe Market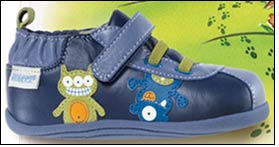 Robeez, a unit of the Stride Rite Corporation of Collective Brands Inc announced its strategic plans aimed at building upon its leadership position in soft-sole footwear for infants and toddlers up to two years old and seizing growth opportunities through global expansion, innovative product line extensions targeting older age groups and new product categories.

To support the plan, Robeez will shift operations responsibilities from Burnaby to the Stride Rite Children's Group (SRCG) corporate offices in Lexington, Mass.

These changes will enable the brand to better integrate with SRCG to leverage the group's core competencies in children's footwear including in brand management, product development and marketing, as well as its support infrastructure in areas such as finance, information technology and human resources.

The transition will include moving the Robeez customer service operation to an existing Stride Rite call center located in Richmond Ind. This will result in the closing of the Robeez headquarters in Burnaby.

The plan also includes closing down the Burnaby manufacturing facility and shifting all Robeez product manufacturing to third-party manufacturers through the Collective Brands Inc.

Global Sourcing and Supply Chain organization, a shared resource that serves all of Collective Brands' businesses.

More than 300 Canadian Robeez associates approximately 250 in manufacturing and 60 at the headquarters operation are affected by the plan.

Robeez will support affected employees with separation packages and incentives, as well as outplacement services and job placement support.

The headquarters' functions will move in phases beginning in September with the customer service operation, followed by the remaining roles transitioned to Lexington by the end of February.

A small transition team will remain in Burnaby through June 2009 to ensure a smooth transition of all critical functions. Robeez said it expects to add new positions based in Lexington as needed to support this plan.

The manufacturing shut down will take place in early December affecting all manufacturing associates. Also as part of the strategic plan, by the end of 2008, Robeez will redirect sourcing of all Robeez branded products to third-party manufacturers through Collective Brands' Global Sourcing team.

This decision will create a more flexible manufacturing resource with the diverse capabilities to support the long-term growth of the Robeez brand and its strong focus on quality and product innovation, as well as enable the company to significantly reduce manufacturing costs to ensure competitive pricing.

"This strategic plan is the result of a thorough eight-month study to review the Robeez infrastructure to best support our customers, maintain competitiveness and profitably grow the business over the long term," said Susan Vann, general manager of Robeez North America.