Tiffany presents Celebration Rings collection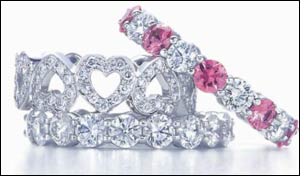 Tiffany & Co., the legendary American design house and style icon presents its latest assortment of Celebration Rings –highly original jewels dedicated to mark every goal, dream, triumph and milestone in life.

Crafted from platinum and set with sparkling diamond brilliants as well as pink and blue sapphires, the latest selection symbolises each twist and turn on the road to success and self-fulfillment. Narrow and feminine to wide and dramatic, all options are open to pursue personal style and stack up the glamour – one touchstone at a time – creating a daily, dazzling reminder of victories won.

Whatever the bliss, break or bonus, the world's diamond authority builds a ring around it, rewarding risk takers, as well as those who practice patience for sealing the deal, getting a career on track, or embracing opportunity. With these Tiffany jewels, making the right choices is an exercise in pleasure and gratification. Each glittering band gives the go-ahead to let the celebration begin and to reach for a new day.

"Tiffany & Co. has always set a precedent since its founding over a century ago, and Celebration Rings splendidly epitomises this legacy. Each of the rings fuses exemplary vision with the finest materials to mark life's important moments. The wonderful variety of designs make the rings ideal for all occasions, and it is highly doubtful if the most finicky shopper will not be able to find her dream design in this collection," commented Pegah Goldooz, General Manager of Tiffany & Co. in the UAE.

Tiffany & Co. is an authority in ring settings. In 1886, it introduced the engagement rings as they are known today. It created the six-prong Tiffany Setting which lifts the diamond above the band and into the light to offer a stone of unmatched brilliance.

In 1926, Tiffany's standard of purity became the official standard for platinum in the United States and in 1999 it introduced the Lucida engagement ring which was hailed the world over as a masterpiece. Following this long history of excellence, the famed design house makes a name for itself yet again with the introduction of Celebration Rings.

Consider its Etoile ring for sheer wattage, featuring five rows of paved, pure white diamond brilliants that almost appear fused together into one magnificent piece.

The Victoria band ring plays with Tiffany's favourite theme – nature -- by featuring four-petal buds between two rows of closely hedged brilliants.

The Lucida ring, on the other hand, features a full circle of diamond brilliants, elegantly arranged to radiate pure glamour.

These special diamond and platinum bands light up every celebration with the sheer beauty and elegance of Tiffany design. Across the globe, regardless of where you come from, there is always that compelling desire to remember and preserve life's precious moments. Here is a collection that simply does that in the unique Tiffany tradition.

The charming and elegant Celebration Rings Collection is exclusively available at Tiffany & Co. boutiques in Dubai and Abu Dhabi.

Tiffany & Co.