Twelve fashion solutions by MALO for informal men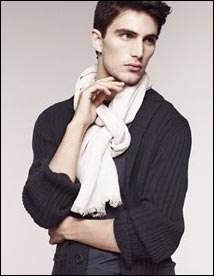 The colour that contains all colours, white has the supremacy of simplicity but without being minimal. It stands alone but is not empty, it is pure but not colourless. It is thought in its most intense expression, it is perfection and beyond suspicion. It exalts shapes and does not hide line, because in nature as in art, white is the colour of light. Which is never of one white only.

Twelve whites, twelve models, twelve solutions, twelve alternatives. Making a thousand and twelve or so combinations of different whites, different yarns, different collars, different necklines. All this for a Polo.

The Malo Men's collection-performance for spring-summer 2009 is all there in the Polo in fact, a Malo icon and at the same time the item of the male wardrobe that perhaps more than any other represents an aspiration to elegance that doesn't need formal classification: it speaks for itself, in all its uncompromising insistence on beauty.

The twelve Polo models embody the quintessence of Malo: materials and techniques, sophisticated yarns and sheer craftsmanship. Super-fine cashmere, silk, makò cotton and ultra-lightweight double-sided linen are the fabrics featured throughout the collection and enhanced by such techniques as drop-stitching on the shoulder and armhole, thin ribbing, hand-stitched cotton and semi-transparencies.

Volumes differ substantially, from body hugging to volume "squared", as do the collars, from very small with close-together buttons to elongated, almost lapel-like collars and button-downs. From three to seven buttons close necks often trimmed with narrow gros-grain ribbon. Two sleeve lengths: half or full.

Thus, in the absolute purity of white, one of the great cult garments of informal men's fashion finds new life.

IT Holding S.p.A.