Celebrating Vivaha unfurls in Mumbai at JW Marriott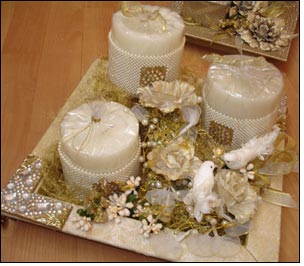 Come August and India's most spectacular exhibition, Celebrating Vivaha 2008 unfurls in Mumbai from the 8th-9th-10th August at JW Marriott. This is the 6th year for the exhibition and things have just gotten better than before. This time around, Celebrating Vivaha will bring together the best of variety for you to sift and sort for a grand wedding.

Starting with the Ludhiana exhibition that ran successfully from the 19th- 20th - 21st July at Majestic Park Plaza, Ludhiana, and the Delhi exhibition that took place from the 1st-2nd-3rd August at Hotel Ashok, Celebrating Vivaha will host a round of exhibitions across the metropolises of India. Says CEO, Mr Tarun Sarda, "When we first launched Celebrating Vivaha in 2003, I decided to test the wedding markets of the country's economic and political nerve-points: Mumbai and Delhi respectively. At that time, I could only imagine the challenges and successes that lay ahead. Today, I have lived through each of them and it fills me with immense pleasure and gratitude to relive our achievements."

With the passing of each year, Celebrating Vivaha has turned bigger and better than before, both in terms of quality and quantity of participants. In addition to the best of brands and designers, Celebrating Vivaha has added several cities in its ambit, namely – Ludhiana, Indore, Bangalore, Kolkata and Hyderabad. And all the cities have responded to the initiative most encouragingly, reaffirming the belief in the stature of the Indian weddings and the Celebrating Vivaha exhibitions.

This year also marks the addition of another city, Indore where the exhibition takes place from the 22nd-23rd-24th August at Mahal Hall, Sayaji Hotel. The exhibition will then go to Bangalore from 12th-13th-14th September at The Leela Palace; then to Kolkata from 1st-2nd-3rd November at Hyatt Regency; then to Hyderabad from 14th-15th-16th November at Taj Krishna; and then rounding off the year with New Delhi again from 12th-13th-14th December at Hotel Ashok.

"With Celebrating Vivaha, I have endeavoured to redefine the concept of weddings and wedding exhibitions in India. Spurred on by my domestic successes, I plucked the courage to take Celebrating Vivaha international. We became a pan-Asian affair with the Dubai exhibition, The Grand Indian Exhibition-In Touch With Fashion two years back.

The fair last year too was a runaway hit! Today, more than ever before, I am confident that my future efforts in other destinations will consolidate Celebrating Vivaha's position as an international event, and help take the Indian Wedding global," adds Mr Sarda. This year The Grand Indian Exhibition-In Touch With Fashion will be held in Dubai from the 9th-10th-11th October at Madinat Jumeirah Hotel.

Think weddings and Celebrating Vivaha needs no introduction to brides and grooms-to-be apart from fashion followers. Whatever is the latest in the business of weddings and fashion, you will find it under one roof at Celebrating Vivaha 2008. Says, Mr Tarun Sarda, "This is our sixth consecutive year of exhibitions. We are expecting Celebrating Vivaha 2008 to be a truly extravagant affair." Celebrating Vivaha is a multi-faceted and multi-dimensional expo to the core and has been conceived especially to cater to the wedding needs of people.