A cultured collection for the man by Gianfranco Ferré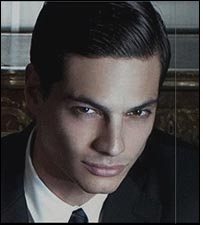 Self-knowledge is a journey, at once inner and open, leisurely and swift. Extraordinary even at moments of pause, fascinating in the depth of reflection. It's a timeless journey, albeit set firmly in the dimension of time.

A construction process with strong sense of certitude, a day by day evolution reinforcing personal roots. This natural flow is what gives origin to the Gianfranco Ferré men's collection for spring-summer 2009.

A collection ranging beyond fashion to capture the confident ease of an individual familiar with the language of style, who plays expertly with its endless variations and new codes. This quiet form of experimentation enfolds a desire for discovery in detailing, for identification with the intensity of deep hues.

For contact with nature, the earth, matter underscoring the purity of lines, naturally mannish and sure also of emotion. A cultured collection for the man who knows how to make the uniqueness of mohair, the natural wealth of abaca exquisitely his own, yet also wants to feel on his skin the sheer beauty of silk.

No clear inspiration, no reference point other than the man himself.

A collection all about research and discovery, where luxury is firstly the luxury of knowing and understanding. Also the value of a small symbol, a minuscule safety-pin in designs and embroideries found here and there, quite surprisingly.

The research is visible in the unusual new pinstripes, no less than stunning in the laser-cut cottons and embossed leathers with totally natural trompe-l'oeil effects at shoulders, sleeve-joints, buttonholes and tucks. The shapes…jackets smooth of cut, in natural synch with the body. straight pants, slim and easy. linear overcoats. Materials: dry mohair, wonderfully cool, hand-woven according to a now-rare art, otherwise expressly unfinished; abaca, ultrafine yarn twisted and woven into a cool dry poplin, both close- and full-textured, with soft drape; oiled polyester lined in pashmina for soft and superlight jackets; cashmere with silk doubling, linen and wood fiber, in unprecedented alliances for intangible summer knits; ultrasoft jersey for classic t-shirts; embossed leathers.

The colors are dark neutrals. potently full. Embroidery: delicate on shirts. Also, various types of rich openwork. More research in the accessories: laser cuts, tone-on-tone topstitching and trompe l'oeil inserts.

IT Holding S.p.A.