Sona Swiss gears up to launch 'Divine Collection' at IIJS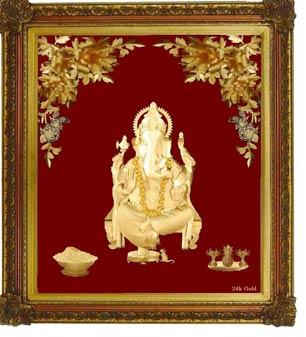 The unconventional beauty of 24k gold foil products of Sona Swiss is all set to glitter at iijs 2008. Keeping up with the festive season coming up in India, Sona Swiss is geared up to launch their latest addition to its unique creation of 24K gold 'Divine Collection', where the religious sentiments have found an association with art & beauty.

The 24k gold foil art décor products range from banknote collection to 3D frames. These products are handcrafted & have been specially designed & created using traditional goldsmith's skill combined with the latest patented 3D Art Technology.

Sona Swiss introduces the Divine collection 3D frames of Ganesha, Laxmi, Saraswati, Durga, Ganesh-Laxmi Pair, Ganesh-Laxmi-Saraswati Trio, Balaji, Shreenathji and Radha Krishna. Sona Swiss will also be showcasing the new range of 24k gold flower collection which includes 24k gold rose, 24k gold carnation, flower brooch/ hair accessory collection, bouquet, 24k gold foil pendants and 24k gold cards.

On the launch of new collection of Ms. Anamika Chhawal, Managing Director, Sona Swiss, said, "Beauty at Sona Swiss is eccentric and the glamour, which is achieved with our patented 3D technology at our factory in Taiwan.

Our products have been acknowledged globally in varied customized forms, In India keeping in the mind the religious sentiments and psyche of the people, we have introduced the latest range of Divine collection for festival season in India along with a varied versions of scintillating trend setter 24k gold rose, pendants and accessories. Our products are priced is such a way that it will entice consumers from all income groups."

Sona Swiss has been recognized globally for its innovative designs, defining the contemporary style, a dedicated professional team in transforming gold into a piece of art, to give a state of art craftsmanship. Sona Swiss expertise's in producing a fusion of highly emotive products with clearly defined lines to achieve reachable & tangible beauty.

By stirring the imagination, the most elegant, exquisitely designed state-of-art 24k décor is produced which speaks for itself. The uncommon beauty, the unconventional glamour all makes our 24k gold product an eye catcher.

All the products are made of pure 24 carat Gold leaf with a purity of 999.9 in a thousand. They have also been independently certified for their gold purity by the Assay offices in London and New York. All the gold products come with a certification from Taiwan, USA, etc our gold foil products are patented for designing and manufacturing. All gold materials are of high purity imported from Switzerland.

Sona Swiss Gems Pvt. Ltd.