Fire up the summer with cool chic clothing!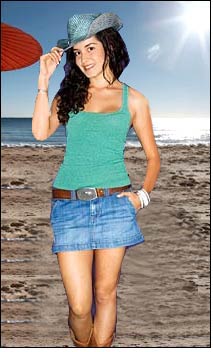 Sunny days are here again. Winter has moved away with all its gloom and bright sun rays are announcing the arrival of summer. Now again the days will be colourful and vivid. The time has come to refurbish your wardrobe and keep away those heavy clothing under lock and key.

Europe is welcoming the colourful season with open arms. This is the land of diverse language, culture, and style. Fashion hubs like London, Paris and Milan are getting ready to greet this warm season with their classyness, trend and elegance.

As holiday mood prevails here, every body is relaxing. So designers emphasize more on serene, relaxed and fresh range of clothings.

Come; let's take a tour of European fashion this summer.

In Europe, 'least is more' in summer. Style in this hot season must be comfortable. Loose fitting, breezy, lightweight garments are most comfy and perfect for outdoor summer.

If you are an office goer, a light shaded shirt with coloured stripes, horizontal or vertical, or checks is perfect choice. Even a smock or a t-shirt of muted hues can bring that sober look.

To beat the heat, shorts are one of the best options in summer. Flaunt your shapely legs wearing these. If you are the one who has the plus size, don't worry, now days markets are flooded with your size as well. Varied options like short shorts, walking and golf shorts are available if you are shopping for these clothing.

Even though jeans is all time favourite, an embroidered capri teamed up with a versatile top of linen, cotton or silk can prove a good pick for this season. A boob tube along with a little jacket will bring that sensational look in you.

Short skirts of 70's fashion, are back with a bang, this season. Be it flowing, ethnic or bohemian style, can give you the super model look. Trendy tops, chiffon blouses, sequined tanks, can be worn with these.

If you are relaxing at the sea shore, a sarong or other beach wears will help you get the desired suntan.

Summer fashion for men is equally important. This year, shirts of floral prints are in vogue. Even subtle coloured designer suit will add a dash to your personality.

Due to high humidity during this season, designers prefer to choose fabrics that are breathable. Thus, suitable fabrics for this season would be cottons, chiffons, linens, pure silk.

Floral and botanical prints are 'in' this season. The most highlighted colours of the season are shades of greens and blues; fluorescent lime green, beautiful jade green, optimistic sky blue, titanium grey, rice-paddy green, dark cobalt blue and leaf green are few, that can brighten up your appearance and take you more closer to the nature.

This summer glamorize yourself with that ideal footwear. Embellished heels, sandals, gladiators, are popular choice for this season. While going on a business affair, traditional laced shoes, light coloured loafers, suede bucks or rubber soled casual shoes would be the best selection.