Roberto Coin celebrates the Olympic spirit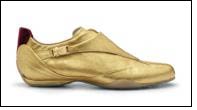 So the infamous 8/08/08 has finally arrived and the 2008 Beijing Olympics is perhaps the most anticipated games in recent history.

These Olympics are sure to be filled with jaw dropping performances, awe-inspiring stories and new world records.

These are games to be remembered with athletes such as Michael Phelps who are going for the unthinkable: whether it is the all-time leading gold-medal winner in Olympic history or breaking the 36-year old record by Mark Spitz as most number of gold medals in a single Olympics ... we are all going to remember when and where we were.

Luxury jeweler Roberto Coin has created several pieces in his Collection that help you celebrate your Olympic spirit whether you are a sports fan, admirer of Chinese culture or simply an Olympian "wannabe."

THE GOLDEN SNEAKER:
Not all of us may have the talent of lightening fast Tyson Gay or the sheer determination of perhaps the most inspirational Olympian, Lopez Lomong, but Roberto Coin offers a clever way to attain gold with his creation of his "Golden Sneaker."

This unique sneaker is made of high-tech 24 karat gold varnished nappa leather then coated with a PVC lacquered film.

It is finished off with an 18K yellow gold clasp and Coin's signature ruby. Priced at $31,000, it is a bit more pricey than the average sneaker but isn't there always a high price to win the gold?

THE BOXING GLOVE:
If the Golden Sneaker was out of your price range, Roberto Coin has piece to offer the woman that is sure to be a knock-out: the 18K gold Boxing Glove.

The US has always been a dominant force in the world of Olympic boxing with past gold medal winners such as Andre Ward (2004), Oscar de la Hoya (1992), "Sugar" Ray Leonard (1976), George Foreman (1968) and Cassius Clay (aka Mohammed Ali) (1960).

This year, cheer on medal favorites Luis Yanez and Demetrius Andrade wearing the elegant boxing glove pendant from Roberto Coin's Tiny Treasure Collection. Made of 18K white gold with diamond accents and priced at $620, this is a look that packs a punch!

THE PANDA:
Maybe you are not familiar with all the sports and teams of the 2008 Olympics, but have an appreciation for Chinese culture Roberto Coin has just the right look for you. "The Panda" was chosen as one of the 5 symbols of good luck (known as "fuwa").

Seen as a national symbol for China and often associated with environmentalism, the Olympic Panda symbolizes balance and coexistence of mankind with nature.

The Roberto Coin Panda, retailing at $1,580, is made in 18K white gold with diamonds and black sapphires. A Panda like this is sure to bring some luck!!

SYMBOL OF PEACE:
Though there are many times when countries disagree with each other's policies, for two weeks in August, all of that is put aside to honor athletes around the world for their exceptional athleticism, sacrifice and inspiration.

The Olympic Games have always embodied the spirit of peace. Roberto Coin has the classic peace symbol that simply reflects what Olympic spirit truly means.