Swiss watch brand Parmigiani collaborates with Pershing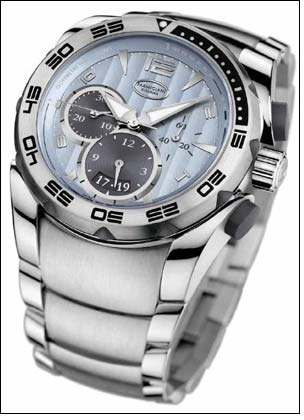 Parmigiani Fleurier (a Swiss Fine Watch brand) which has entered into an ambitious partnership with Pershing, a Ferretti Group brand and builders of prestigious Italian luxury yachts, to develop the first range of Pershing aquatic sports watches.

This partnership - a result of shared entrepreneurial excellence -- made it possible for Parmigiani to launch its innovative aquatic timekeeper. For several years the high-end watch maker had wanted to develop a distinct collection characterised by highly sporty lines and volumes. Thus there could not have been a better route for Parmigiani Fleurier than allying its technical expertise with Pershing.

Michel Parmigiani, CEO of Parmigiani, commented: "The partnership sealed the promise of a unique history, marked by the aim of constant perfection of tried and tested know-how of the two sides. Both our companies over the course of several decades have succeeded in creating extraordinary industrial facilities, embodying the objects of our passion. Tilli Antonelli started boatbuilding at a very young age, while he sailed on a legend of the seas, il Moro di Venezia.

At almost the same time, on the other side of the Alps, I discovered a passion for the mechanics of time, inspired by the grand masters of Swiss watchmaking. Thus the meeting of our two worlds could only underline our will to perfect the real and achieve the exceptional through the creational of an innovative watch."

Tilli Antonelli, CEO of Pershing, raved: "Both the companies share similar passion and creative spirit which had been the core reason of bringing us together to give life to a whole new family of highly sporty watchmaking collections, from the chronograph to grande complication mechanical models.

The Pershing collection is the starting point of a long-term association that may also be manifested in more advanced collaborations in creating timekeepers customised to a yacht or a customer's wishes. Probing the complex world of a perpetually moving watchmaking mechanism or exploring the mysteries of the ocean depths requires an absolute knowledge of one's art. Thus the time manufacturer was destined to meet the naval manufacturer…"

The Pershing collection comprises two different lines: The first one is the limited edition 'one-one-five', available in 18 carat rose gold and 950 Palladium comes in two dial versions, tan and silver, each of 115 pieces, incorporating the self-winding chronograph movement Calibre PF 190.

It has been created in honour of the biggest and most prestigious Pershing vessel, measuring 115 feet which can be found engraved on the watch case-back. It is an echo of the finest rare wood varieties or refined leatherwork in a yacht's interior furnishings.

The second line is the Pershing Chronographs collection, available in steel with four dial variants, and is non-limited edition. The special form of the numerals on the dial is in the spirit ofthe Pershing logotype. The models incorporate all the style codes now connected to the brand, thus retaining a classic appearance.