Batik competition commences in a big way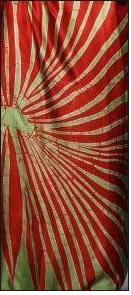 Commenced in 2003, the Piala Seri Endon (PSE) batik competition is a yearly held national event, which is organized to encourage and promote the captivating craft of batik. This prestigious event is the vision of Late Datin Paduka Seri Endon Mahmood, wife of the Prime Minister of Malaysia.

Over the years PSE contest has carved a special niche for itself among the batik enthusiasts. Official sources told Fibre2fashion that the submission process started in the month of July where participants had send their piece of work to be judged by the panel of expert judges in August. Later the selected entries are called for the final round that takes place in November.

The success of this event can be seen from the fact that in 2003 it made a humble beginning with only one category, fashion. But now two more categories are added, namely, soft furnishing and handicraft, for the artists to showcase their talent. Every year the number of participants is increasing and the feedback that the organization has received so far has been tremendous.

This year more than 100 contestants had participated in the preliminary round. The participants under fashion category have to create three garments. These will be judged on November 15 and 16, when models will walk on the ramp displaying these stunning creations at 1 Utama, Petaling Jaya.

For the soft furnishing segment participants will decorate one room each with curtains, bed covers and other home furnishing items. Contestants taking part in handicraft category will have to make products like accessories and toys.

All the items will be judged on November 14 and onlookers will be able to see the talent of countrymen on November 17 at 1 Utama. The grand finale of the PSE will take place on November 23 at the Putra World Trade Centre.

The Malaysian batik industry is known globally for excellent designs and this competition encourages countrymen to take up this profession. An art gallery in Seri Endon is dedicated to display excellent creations of artisans for the visitors.

The organization even promotes the craft on international level by taking the batik creations to exhibitions that are held in different parts of world.