Uyanda creates scintillating line for women of today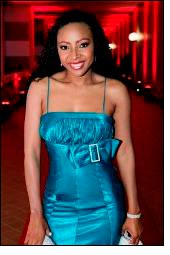 Yesterday evening, the famous actress, television personality and businessperson Uyanda Mbuli, presented her first ever fashion collection Diamond Face Couture, at the South African Fashion Week in Sandton.

The socialite presented her fabulous range of 23 garments in front of fashion conscious audience and received rave reviews. The exuberant creations were made in collaboration with Gert-Johan Coetzee, a renowned designer.

Some well known personalities and models sizzled the ramp, while showcasing the stylish and sophisticated outfits that were made using colours like grey, beige, brown and orange. Ribbons, laces, delicate embroidery, all highlighted the cuts and designs of this outstanding collection.

Known as one of the most amazingly dressed celebrity herself, Mbuli, has ventured into the field of fashion in order to offer designer clothes for women of all different body types, be it slim or plus size.

The Diamond Face Couture is aimed to bring back to life the inner beauty of women that has taken a back seat, owing to busy lifestyle.

Uyanda was the first black women to be crowned Mrs South Africa Globe in 2005. She understands fashion and now aspires to take the industry of Africa on a much higher level. She believes that, this can only be done by bringing innovation and experimentation in designs.