Tiffany Somerset to be perfect accent to update woman's wardrobe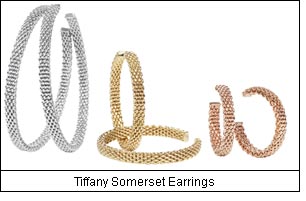 Tiffany & Co., the legendary American design house and style icon anticipates the coming season with the latest, must-have jewellery: Tiffany Somerset, the new collection of cuffs, earrings, rings and necklaces defined by contemporary elegance.

Tiffany Somerset celebrates the unique qualities of sterling silver and gold in yellow and rose colour. Precious metal is woven with a fabric-like feel, polished to a pearly sheen and shaped into strikingly beautiful jewellery.

Its sunny-warm reflections make for mesh of gleaming chic that seamlessly combines with sterling silver mesh; micro-knit mesh in yellow and white gold; as well as braided mesh and flexible mesh in streamlined steel. Each version has a sheer tactile quality and refined attitude that is a Tiffany imprint and the ultimate gauge of a classic.

"Tiffany & Co. once again demonstrates the many possibilities of crafting jewels solely from precious metals. In this new collection, silver and gold achieve new character with the introduction of innovative textures and designs.

Fashion this season is defined by streamlined forms and Tiffany Somerset pieces would be the perfect accent to update every woman's wardrobe, whether for day and evening wear. I am confident that fans of Tiffany across the country will be thrilled by these new offerings," commented Pegah Goldooz, General Manager of Tiffany & Co. in the UAE.

The luxury jeweler designs pivotal pieces for women that mesh perfectly with everything from tailored lines to tan lines. Options include mesh bracelets, earrings threaded in elegant hoops, richly woven rings and bangles narrow to wide, cuffs armed with extreme style, and silky necklaces that move easily with the body.

Tiffany Somerset builds on its strong good looks in endless ways: just mix metals, textures, colors and stack. However it comes together, the collection is a modern expression of Tiffany design that weaves its way through this season and beyond.

The unique and highly versatile Tiffany Somerset Collection is exclusively available at Tiffany & Co. boutiques in Dubai and Abu Dhabi.

Tiffany & Co.