Lierac Paris introduces Arkeskin+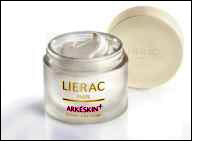 Hormones play a key role in a woman's life. At each stage, hormonal variations are accompanied by changes in the body and in particular, to the skin, especially pre and post menopause.

By age 45 and beyond, the skin's architecture and appearance changes it becomes thinner, dryer, and experiences a significant loss of firmness.

With baby-boomers reaching retirement age, women ages 45+ have become a force to be reckoned with! They are informed consumers, eagerly looking for the latest technology. She doesn't want promises.

She wants results. What are the options? Hormone Replacement Therapy (HRT) for one, however whether or not women take HRT, skincare creams remain the key in the cosmetic management of hormonal skin aging.

In the 1990's, Lierac Paris launched Arkeskin, a moisturizer developed exclusively for women of this age group. Lierac Laboratories re-formulated Arkeskin to create genuine "skin replenishment therapy" with the introduction of Arkeskin+.

Arkeskin+ contains a unique combination of Cytonacre sp, or Mother-of-Pearl powder and Chestnut extract to:
1. Deeply hydrate the skin
2. Restore skin firmness and elasticity
3. Even out skin complexion

• Cytonacre sp, Mother-of-Pearl
Lierac Laboratories, in collaboration with Professor Evelyne Lopez, Director of the Fundamental Unit on Endocrinal Regulations CNRS, France, have developed the natural ingredient Cytonacre sp in Arkeskin+.

Cytonacre sp is extracted from a giant pearly oyster, native to the Sea of China or northern Australia. Like our skin, mother-of-pearl has an astonishing ability for renewal, repair and regulation that enables its constant adaptation to the external environment.

The formation of mother-of-pearl possesses analogies with the formation of certain types of tissue in mammals including human and bone tissue and our skin.

Biological and biochemical experiments in Lierac Laboratories have shown that Cytonacre sp has similar activity to estrogens on menopausal skin tissue, but with one fundamentally different characteristic: safety.

Upon contact with the skin's surface epidermal layer, it helps stimulate the growth and division of 3 major types of skin cells: keratinocytes, fibroblasts, and melanocytes to re-build the skin's architecture.

• Chestnut Extract
In 2004, Lierac Laboratories awarded their Dermatology Research Prize to Professor Jens-Michael Jensen for "The metabolism of ceramides in the epidermis of aging skin."

He used the award to bring his study to a successful conclusion and demonstrate that the epidermis is the most affected skin layer in the pre-menopause period.

The adverse change is chiefly due to a sharp decline in the number of cutaneous ceramides, which upsets the skin's barrier function and causes intense dryness during menopause.

Ceramides represents 40-50% of the lipids found in the intercellularcement and 56% of the lipids that form cellular membranes.