Sona Swiss presents 24K garland to Lalbaug cha Raja!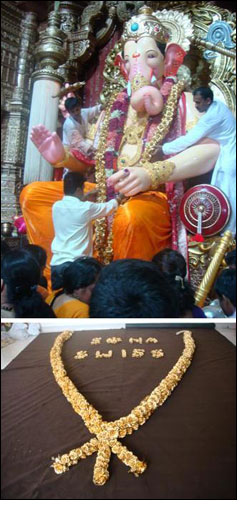 The unconventional beauty of 24k gold foil products of Sona Swiss presented a huge garland of 24k gold roses to Lalbaug Cha raja on the occasion of 75 years of Lalbaug Ganeshotsav. The 10 feet height garland, 346 roses worth 9Lakhs and the uncommon beauty of the gold roses made the 24k gold rose garland an eye catcher.

This garland has been handcrafted & has been specially designed & created using traditional goldsmith's skill combined with the latest patented 3D Art Technology.

Sona Swiss has been recognized globally for its innovative designs, defining the contemporary style, a dedicated professional team in transforming gold into a piece of art, to give a state of art craftsmanship. Sona Swiss expertise's in producing a fusion of highly emotive products with clearly defined lines to achieve reachable & tangible beauty.

By stirring the imagination, the most elegant, exquisitely designed state-of-art 24k décor is produced which speaks for itself. The uncommon beauty, the unconventional glamour all makes our 24k gold product an eye catcher.

All the products are made of pure 24 carat Gold leaf with a purity of 999.9 in a thousand. They have also been independently certified for their gold purity by the Assay offices in London and New York.

All the gold products come with a certification from Taiwan, USA, etc our gold foil products are patented for designing and manufacturing. All gold materials are of high purity imported from Switzerland.

Sona Swiss Gems Pvt. Ltd.