Paspaley Pearl Strands create playful look perfect for season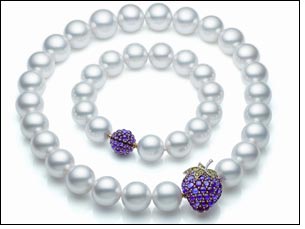 Paspaley, the world's leading South Sea pearl company, celebrates the top accessory of the season – the classic pearl strands – with highlight pieces from the Paradis, and Dolce collections. These unique creations highlight the legacy of the pearling pioneer that began over 70 years ago on the remote and unspoiled coastline of northern Australia.

These timeless strands draw attention to the South Sea pearl's' natural shapes and lustrer, qualities that will definitely add a touch of elegance to every woman's wardrobe. Paspaley's exacting standards ensure that each pearl is carefully selected for quality, lustre, colour, size and shape, making every strand truly special. Unique and highly versatile, these exquisite creations echo the sentiments of a discerning woman who seeks to express her individuality in high style.

Pegah Goldooz, General Manager of Paspaley in the UAE, explained: "These exclusive offerings once again assert the timeless beauty of pearl strands. These staple jewels grace the wardrobes of royalty and celebrities as well as fashionable career women.

With Paspaley's exclusive collections, the country's pearl jewellery lovers can now choose from a wide variety of stunning strands complemented by white and yellow gold, and by coloured stones and diamonds in some pieces. Pearl strands never go out of style and they will always be the perfect accessory for every mood and occasion."

Each Paspaley pearl strand is as individual as the woman who wears it. The trend now is to match an elegant pearl necklace with a simple outfit to create a clean and understated look. Just a simple pearl strand can turn a casual top and denim number into a chic look desired by a lot of women.

The spirit of these strands is young and vibrant, with a lot of creative flair. One may opt for the classic and highly versatile single strand or with the more sophisticated multiple strands of pearls. The mixture of different lengths and sizes adds drama to both day and evening wear. On the other hand, pearl strands in subtle hues create a playful look perfect for the season.

Every harvest, Paspaley's 'Pearl Room' is alive with excitement as in-house designers choose their 'pick of the crop' – pearls of a myriad of shapes, colours and sizes -- that inspire each jewellery design. Matching gem quality pearls for a single strand can sometimes mean sorting through an entire harvest as experienced pearl graders carefully examine every single pearl to assess and grade its qualities.

The finest pearls are then strung together with the same care and respect that it takes to nurture them in Paspaley's remote pearl farms. The strands which feature either uniformly sized pearls or gently graduated ones may vary in length from a short choker to long opera lengths. They are available in sizes ranging from 10mm to 20mm and larger, with shapes ranging from traditional round to oval, triangle, baroque and circle.