Beiersdorf to open a new NIVEA Haus in Dubai and Berlin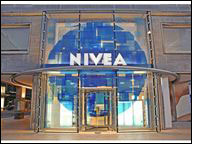 Beiersdorf AG is to open two new NIVEA "Häuser". The innovative concept of quick and easy wellness, which has proved a major success at the principal location of the Company and the NIVEA brand in Hamburg, will expand to Dubai (United Arab Emirates) at the end of October and Berlin in February 2009.

"The NIVEA Haus opened up a completely new market segment in 2006. We were the first to allow people to drop in for some quick, relaxing care," said Pieter Nota, member of Beiersdorf AG's Executive Board responsible for Brands.

The NIVEA Haus team offers a large number of wellness treatments featuring NIVEA's more than 500 products, from face and hair care through manicures and color consulting, to shiatsu and reflexology massages.

The treatments last between a few minutes and one and a half hours. Demand is now so great that the number of staff has had to be more than doubled.

Beiersdorf's basic principle of being close to consumers and offering them uncomplicated and relaxing care will now be implemented outside Hamburg: "NIVEA is at home throughout the world – and now NIVEA is taking its home to the world.

The concept of the NIVEA Haus will also be realized in Dubai and Berlin, but will be tailored to changing consumer wishes and local needs," said Pieter Nota.

"Closeness is extremely important. NIVEA has become the largest skin and beauty care brand in the world because it appreciates personal and regionally differing consumer needs."

At the two new locations, the NIVEA Haus will primarily target browsing shoppers and tourists. "Consumers have less and less time to spare and are looking for brief but effective relaxation.

In Dubai and Berlin, we want to offer them a spontaneous break from their daily lives that won't cost a lot of time and money," said Pieter Nota.

The NIVEA Haus in Dubai, which will be located in the Dubai Mall, the world's largest shopping mall, will mainly offer cosmetic treatments in response to the high level of fashion and beauty consciousness there.

It will provide face treatments, manicures, hair care and styling without an appointment, thus inviting consumers to spontaneously relax and unwind during their shopping trip. Separate areas will be set up for men and women, in keeping with Dubai's culture.

NIVEA will also present its range of products to an international audience, as well as advising customers. Because the people of Dubai like to see NIVEA's German roots, the new attraction will use the German name "NIVEA Haus" rather than the English "House."

Faster, more spontaneous, and with its finger on the pulse – the new NIVEA Haus in Berlin will exclusively offer spontaneous treatments, with no appointment needed.

A Café area is designed to invite guests to stay a while and feel at home. Order a "Cafe Massagio" and you'll get a Latte Macchiato and a brief neck message.

Cosmetic treatments and advice will also be available. The entire NIVEA range will be presented in a generous sales area covering around 520 square meters, where the NIVEA Haus team will create a world of beauty and wellness. The German capital combines tradition with the flair of an international trendsetting city.