Sia Art's Bangles & Pendants Festival kicks off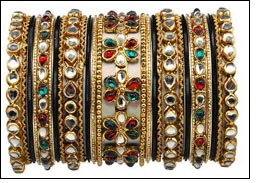 Sia Art Jewellery announced the launch of the Bangles & Pendants Festival across India. This festival claims to have one of the largest varieties of Bangles & Pendants under one roof- and that too, at attractive discounts! The bangles and pendants festival is already on across India from October 3, 2008 and will be on till the first week of November 2008.

Speaking on the occasion of the launch, Roli Malhotra, Manager- Marketing said, "This is the start of the festive season. We will soon be launching our new Bridal range for the year and this festival is the first glimpse of the new trends we want to showcase. On the auspicious occasions of Navratri, Dassera and Karvachauth we wish to offer the twin benefits of beautiful jewellery at amazing deals! "

All Bangles and Pendants in a variety of Kundan, Rasrawa, American Diamond, Pearls, Victorian, Navratna and Moti are offered at attractive discounts. Not only this, on purchasing within a certain limit on the above two categories, the customer gets a voucher of free shopping on the rest of the jewellery.

Emphasis has been placed on a special collection of Bangles for Karvachauth. This range comprises of jota bangles in the traditional colours of maroon, pink, red and orange which adorn a married woman's hands on the day of the fast. Not only this, the entire line of bangles, bracelets and kadas come with attractive discounts for the smart woman! A special range of bindis has also been introduced for the occasion.

Alongwith this, closer to the festival of Karvachauth, select customers (loyalty program of Sia) can avail of free mehendi services at select Sia stores across the country.

SIA Lifestyles Pvt. Ltd.