Fashion accessories marketer Swank posts fall in sales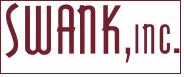 John Tulin, Chairman of the Board and Chief Executive Officer of SWANK, INC., today reported net sales and operating results for the Company's third quarter and nine months ended September 30, 2008.

Third Quarter Results:
Net sales during the quarter ended September 30, 2008 decreased 8.3% to $28,685,000 compared to $31,277,000 for the corresponding period in 2007. The recent turmoil in the financial markets, accompanied by the sluggishness in domestic and foreign economies and fear of recession, has hit department store retailers particularly hard.

This has negatively impacted retail sales for a number of our customers which, in turn, has adversely affected our wholesale shipments to them relative to last year. The decrease in net sales during the quarter was mainly due to lower shipments of our personal leather goods merchandise, offset in part by increases in belt shipments.

During last year's third quarter, our personal leather goods business benefited from initial shipments of our new "Tumi" merchandise which was launched in August 2007. Net sales to international customers for our personal leather goods also trended down during the quarter due to lower shipments of branded merchandise to certain licensor affiliates.

The increase in belt net sales resulted principally from higher shipments to certain customers in connection with the introduction of new branded and private brand merchandise collections. Expenses associated with in-store promotional activity, which are accounted for as a reduction to net sales, increased 19.0% during the quarter as we continued to move aggressively to maintain or expand market share during a difficult economy.

Gross profit margin for the quarter ended September 30, 2008 was 31.2% reflecting a slight decline from last year's 31.5%. The decrease was primarily due to lower net sales, which to a large extent, was due to the increase in in-store promotional expenses.

Merchandise cost as a percentage of net shipments actually decreased during the quarter for our belt merchandise mainly due to increased utilization of more economical shipping modes, as well as improved efficiencies generally in our sourcing and product development organizations.

Selling and administrative expenses for the quarter increased $719,000, or 9.0%, and, as a percentage of sales, increased to 30.2% from 25.4% during the same period in 2007.

Selling expenses increased by $391,000, or 6.5%, during the quarter compared to last year, primarily due to higher compensation and related costs associated with the addition of staff to improve our product development and sourcing functions, increased travel expenses, and certain national advertising.

These increases were partially offset part by a reduction in variable sales-related expenses, primarily sales commissions, resulting from the decrease in net sales during the quarter.

Administrative expenses increased $328,000 or 17.0%, during the quarter compared to the same time last year. The increase was mainly due to higher professional fees, travel expense, and depreciation costs.