Sisley S/S 2009 Collection aims straight for the heart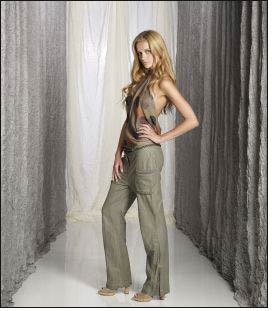 Sisley's new collection for spring/summer aims straight for the heart. It plays on sensations and emotions; it alludes to places, situations and times, but without labouring the point. It seems to suggest that an outfit is the visible side of what we are, of what we want to show of ourselves. A calling card we choose each day that says exactly who we are.

Passion. The tango inspired this sensuous, passionate theme. Colours are far from stereotypes: peony and cocoa, deep blue and tourmaline never seen before. Figure-hugging silhouettes are caressed by ethereal silks or flowing jerseys, emphasised by stretch cottons and cotton/linen satins, or highlighted by minimal draping and gathering. For her, edgy styling around the bust and waist; the former is put on show, the latter is squeezed. For him, sensuous modelling with bands and belts to emphasise the waist. There are roses for her, but destructured by computer graphics.

Eco-freedom. A love for everything that comes from nature, a surrender to all that isn't artificial. Short digressions into the exotic describe different yet nonetheless spontaneous panoramas. The styles display a play of minimal and maximal volumes, of narrow and broad layering, of glossy and matt pairings, of nudity and sheerness, both for her and him. Going against this trend, the fabrics are worked with blends of natural and hi-tech fibres "cross-fertilised" with soapings, coatings, washes and over-dyeing for a surprisingly natural final effect. Earthy or sandy plain colours in geometric patterns teamed with radiant orange and purple.

Relaxed purity. Simple elegance inspired by spiritual research. Destructured, comfortable styles lengthen the silhouette. For her, a soft, floaty dress is essential: from cotton muslin to silk georgette, from plissé chiffon to crêpe, shot denim or jersey. Technical, encased-ribbon hand-knits. For him, yarn-dyed cotton/silk or textured cotton/linen suits worn with thin-striped shirts and flammé, crushed jersey sweaters. Both share a palette of pale, high-summer shades: white, aluminium, jade, quartz, titanium.

Accessories Collection
A collection with a simple, rigorous style, a perfect match to the clothing collection. The palette centres around basic shades and generally pale pastels, but with bright touches of red, fuchsia and cornflower blue. Each piece has a branded metal bar or a small plate with a new logo.

High-heeled, anaconda-effect patent sandals with a narrow toe-band and an ankle lace are matched with small, rigid, square handbags with a handle or shoulder strap. The wood and branded-fabric clogs with a wicker buckle team with egg- or triangle-shaped triangular bucket bags. Branded fabric is a classic must-have for bags, box-bags and spring court shoes. Feet are slipped into styles ranging from hybrid pump-sneakers or hard-toed, pointe-shoe-like pumps to postwar sandals with a chunky ankle buckle, and from cross-over courts in shaded leather to cord shoes or flat patent sandals with a Roman-legionary look.