Gap announces 20 finalists for 3rd annual casting call contest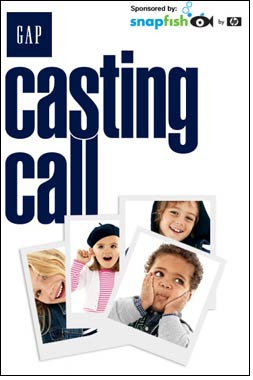 After more than a month of sorting through hundreds of thousands of eligible cuties, Gap revealed the 20 finalists in its nationwide contest to find the next faces of babyGap and GapKids. Starting Dec-8 through December 21, it is up to America to log onto gap.com/castingcall and decide which four lovable, personality-filled children one baby girl and one baby boy for babyGap and one girl and one boy for GapKids -- will be featured in store windows from coast-to-coast and will receive other incredible prizes including a year's supply of clothing from babyGap or GapKids and $450 worth of photo gifts from Snapfish by HP.

"This year parents were more enthusiastic than ever. We received more than 883,000 entries, beating the record from the previous two years, and thousands of families attended photo-taking events at Gap stores to participate in the Casting Call contest," said Pam Wallack, president of babyGap, GapKids and GapMaternity. "Each year the decision gets harder with so many babies and kids to pick from. Selecting just 20 finalists to represent our brand out of hundreds of thousands of adorable children was no easy feat."

Introducing the Casting Call Finalists:

Baby Girls [ages four and under]:

Audrey, 2, from Jersey City, NJ, is a tiny dancer -- from free-styling to funk classics to doing the Monkey Dance with the Wiggles - Audrey's fashionable feet are always on the move!

Ellen, 3, from South River, NJ, boasts tofu among her favorite foods and has a fondness for Japanese nursery rhymes. When she isn't playing hide and seek or Lego's, Ellen can probably be found at Great Adventure amusement park.

Emily, 3, from Whitesburg, KY, could be the next country star in the making. Her favorite song is "I Never Promised you a Rose Garden" and she can do almost every animal impersonation out there [and a few Spongebob ones too.]

Jaci Rae, 3, from Bedminster, NJ, loves going to the playground, listening to Disney Kids music and playing with her full-service restaurant game where she cooks, serves and takes food orders.

Keira, 2, from San Diego, CA, loves to dance and sing along to High School Musical 2 and when she isn't playing with her Disney princesses and fairies, she likes to play in the park.

Baby Boys [ages four and under]:

Caleb, 3, from Gurnee, IL, is a budding athlete who loves Tiger Woods, Lebron James and playing catch with his Brett Farve football. Caleb also likes to play with his Spiderman toy collection and WALL-E Robot.

Julian, 1, from San Francisco, CA, is an explorer in training. One of his favorite activities is heading to San Francisco's Academy of Sciences where he takes in the sights at Explorers Cove.

Max, 2, from Columbia Heights, MN, is all smiles when it comes to dancing and singing for an audience. Max also loves to read and see all his favorite animals at the zoo.

Sam, 2, from Lake Worth, FL, is carefree and energetic and loves to go on picnics at the beach when he isn't dancing his heart out to music like Rihanna or the Florida Gators Fight Cheer.