Buy certified & quality diamonds online at CaratLane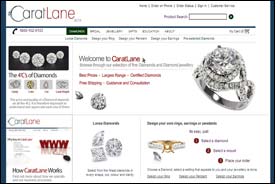 Want to buy a diamond for your loved ones! Well, you don't need to visit a jewellery shop to do that now. Just by a click of the mouse, you can buy certified quality diamond at fair price. CaratLane.com has just launched a first-of-its-kind portal to sell certified and high quality diamonds.

Promoted by Mithun Sacheti, Director of the well-known jewellery retail chain Jaipur Gems and Srinivasangopalan, an IT entrepreneur, CaratLane.com will, for the first time in India, make diamonds available online and offer a limitless choice to diamond buyers.

The portal will provide high quality diamonds at incredible cost savings for the Indian consumer. All diamonds are certified by international agencies such as GIA (Gemological Institute of America), AGS (American Gemological Society), IGI (International Gemological Institute, Belgium) and HRD (Hoge Raad voor Diamont, Antwerp) at prices that are up to 25 per cent cheaper than charged by most retail stores in the country.

Most retail stores in India typically have a maximum inventory of anywhere between 5 to 50 solitaires. This restricts the choices available to customers. In view of its tie-ups with manufacturers across the globe, CaratLane, on the other hand, will have an inventory of nearly 40,000 diamonds of all shapes, colour, cut and clarity at prices starting from as low as Rs.15, 000 and going up all the way to a few crores.

CaratLane will offer custom-made diamond jewellery, catering to the specific taste of a customer. "All the CaratLane solitaire jewellery is custom-made. The customer can choose a diamond that specifically meets his/her needs from an inventory of over 40,000 diamonds and then get it set on ring/pendant or earring with a design of choice,'' says Mr. Mithun Sacheti.

The jewellery is then shipped to the customer within 5 to 7 business days. This is indeed the fastest delivery time line for custom-made jewellery. Most jewellers usually will take between 15 to 30 days to deliver jewellery from the time the order is placed.

More often than not, a customer is faced with very limited options while visiting a jewellery store. Any jewellery store typically will have anything between 5 and 50 solitaires at any point of time. Often, it is the salesperson who dictates what a consumer must buy and not the other way around. Usually, a buyer will place an order based on the 4 Cs (cut, colour, clarity and carat weight) and his/her budget. Invariably, a customer will end up over-shooting the budget.

"The idea to start this online portal came up when we thought of linking manufacturers and consumers. We wanted to create a B2C (business-to-consumer) market with upto 25% savings for consumers," says Mr Srinivasagopalan. The idea is to provide a fool-proof system that captures inventory of manufacturers from around the world and present it to consumers in a language commonly understood by them. In addition, it is also intended to provide the convenience of selecting a diamond sitting at home and getting delivered at home within seven days!