Zegna introduces 'Made-to-Measure Service' for Dubai clients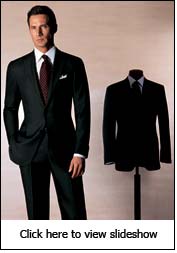 Ermenegildo Zegna, the global men's luxury fashion brand known for its fine tailoring and innovative use of the most exquisite fabrics, brings to Dubai tailor-made suits, pants, coats, shirts, and ties through its highly successful Made-to-Measure Service known as 'Su Misura'.

Ermenegildo Zegna's exclusive 'Su Misura' custom-tailored service makes it possible to produce these luxury items in just a few weeks, respecting the customer's size and needs and maintaining the superb standards of quality for which the Italian maison is rightfully famous.

The 'Su Misura' service, which was launched in the 1970s alongside the first prêt-à-porter collections, gives the customer a chance to choose the fabric, style and details that personalise a garment.

There are numerous variations that make a garment unique. For the jacket, there is the choice of a single-breasted or double-breasted style, the shape and material of the buttons, rear vents, and buttonholes on the sleeves that can be open or closed.

For pants, the shape of the pockets or cuff on the bottom can be chosen. The width and weight of a tie and the shape of the collar and the location of the monogram on the shirt can also be selected, among other things.

Creating your own personal style with Ermenegildo Zegna 'Su Misura' service has never been easier. Three acclaimed tailored styles are available ensuring that the needs and tastes of every Zegna man are catered for:

Roma – Is the international best-selling tailored business style, with a timeless neo classical silhouette. The jacket is cut with fuller definition and sits lower on the body, elongating the linear perspective of form and ideally fitted with slim silhouette pleated trousers.

Milano – Offers a fitted slimmer silhouette, suited for a more athletic form. It favours angular and narrow cut shoulders with a shirtsleeve construction, and a shorter jacket sitting higher on the body and is ideally completed by slender flat fronted low-rise trousers.

Couture – Designed with a powerful Italian style for great tailoring connoisseurs. Couture 'Su Misura' is a highly tailored look, with a waisted effect and slender silhouette, favouring softer natural shoulder construction and higher armholes. The rich Neapolitan tailoring tradition resonates with overlapping panels and the hand stitched curved 'Barchetta' chest pocket.

For suits, jackets and coats you can choose from more than 450 different exclusive fabrics, patterns and colors produced by Lanificio Ermenegildo Zegna. You have your choice of the classics, High Performance, Traveller, 15Milmil15, 14Milmil, 13Milmil and Trofeo lines and also constantly updated new seasonal fabrics.

After the material has been selected, a style that flatters the customer's figure and best suits his needs must be chosen and is further customised through unique details and special touches.

The measurement process is extremely critical to ensure a perfect custom-tailored fit. Specialised staff in the store has undergone specific training to make sure this delicate task is performed accurately and with extreme professionalism.