ck one 'we are one' offers uplifting message of unity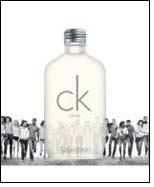 Calvin Klein, Inc. a wholly owned subsidiary of Phillips-Van Heusen Corporation announced that Calvin Klein Fragrances, a unit of Coty Prestige, will launch a new worldwide advertising campaign for ck one, giving voice to the optimistic spirit of a new ck one generation.

Fifteen years after the fragrance debuted -- as the world's original shared fragrance and most successful launch to date -- the ck one "we are one" campaign offers an uplifting message of unity. The television spot features a large cast of men and women of diverse ages and ethnicities singing an original song about the power of people coming together as one. The campaign continues the legacy of ck one's iconic black and white imagery and of-the-moment casting and injects the brand with a positive point of view and compelling campaign front man in musician Jamie Burke.

"The ck one "we are one" campaign is inspired by a social movement of people coming together in the spirit of unity, connecting a diverse range of ages, races, genders, and cultures," says Catherine Walsh, Senior Vice President of American Fragrances, Coty Prestige. "The heart of the campaign is a powerful original song, which reminds us of the common language of music."

"Having maintained its status as an iconic global brand, ck one is as relevant today as it was when it first launched in 1994," says Malcolm Carfrae, EVP, Global Communications, Calvin Klein, Inc. "Since then, ck one advertising campaigns have become famous for their creative direction as well as for the talent featured. At the forefront of this most recent introduction is musician Jamie Burke, who has also appeared in two recent Calvin Klein Jeans campaigns. The latest ck one campaign strikes a chord by reflecting a spirit of unity through music and the current zeitgeist of social change and optimism."

The campaign was directed by Trey Laird of Laird + Partners in conjunction with Calvin Klein, Inc.'s in-house creative studio, CRK Advertising. The print campaign is a virtual portrait gallery of striking and uplifting black and white images of a celebratory group of beautifully unique men, women, and children on a mountaintop, shot by photographer Steven Meisel.

"What's incredible about Calvin Klein is that it always manages to reflect what's going on in the world, sometimes even before it happens," says Trey Laird the campaign's consulting creative director. "I think with the original ck one launch over a decade ago there was a little bit of angst, a little bit of independence and rebelliousness that was reflected in the people in those ads. It was very right for the time and really struck a chord. Today people are more about getting involved, being part of a solution, and coming together with hope for the future. It's not just about you; it's really about what you can do in your part of the world."

The ads were shot on location at the Big Sky Ranch in Simi Valley, California and feature a cast of 27 men, women, and children from all over the world. Ranging in age from three to 40+, the group includes a pair of sisters, and a mother and son -- all led by musician Jamie Burke. Burke's striking looks and natural rock star persona led to him being cast in the Spring and Fall 2007 Calvin Klein Jeans campaigns. He emerged as the front man of the ck one "we are one" campaign, performing and producing the campaign's original song. ck one campaigns have always presented intriguing casting; the original campaign featured Kate Moss and a group of "Gen X" hipsters including Donovan Leitch, Stella Tennant, Jenny Shimizu, and Kirsten Owen, who also appears in the current campaign.