Bird's eye view of everchanging fashion at Northern Virginia Fashion Week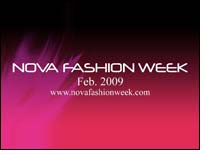 Imagine having a front row seat to take in stunning ensembles, luxurious designs and captivating showcases. Let go a sigh of relief because the 1st Annual Northern Virginia Fashion Week is dedicated to providing a fashionable bird's eye view of the ever-changing fashion industry with its stylish debut February 23, 2009.

Northern Virginia Fashion Week is an event packed with industry concepts highlighting the impact of ART and MUSIC on fashion all around the globe, as well as the artistic influence that fashion beholds on the northern Virginia community and marketplace.

Seeking to inspire visual artists, independent fashion designers and designer aspires, a week-long collection of fashion soirees are in place to create a world-class event with dynamic flair. Independent and luxury designers will display their exquisite 2009 collections with a runway walk and showcase sale.

A list of designers continues to grow, eagerly waiting to be a part of fashion history! Designers such as Fashions by Azucar, AMP Fashions, Mirza Mperial, Nyamal Both, Ray Brown, Street Star Clothing, Today's Diva Handbags, Isolda Couture, Stella Bonds, and Emore'J Couture all plan to showcase during this season's extravaganza.

Aside from the student designer fashion showcase on Mar 1, 2009 at 6:30pm which will allow student designers from all over the country the chance to present their own remarkable runway collection to an audience of fashion enthusiasts and be seen by top fashion industry professionals, Katwalk Kraze will also conduct a fashion presentation.

Katwalk Kraze's program is to Train, Educate, and Develop aspiring females with an interest in the Modeling, Theater Arts, and Fashion Industry into models, public speakers, and entrepreneurs.

"Ensuring that everyone has the chance to attend this event is our key priority. Never have we produced an event where economically priced tickets were not available. Our goal is not to make a hefty profit, as the proceeds go towards students, but to ensure that all participants and guest sense the movement that will occur the week of Feb 23 to Mar. 1, 2009," says Andrew Roby Executive Director of Northern Virginia Fashion Week.

Want to get swept away in exotic designs, custom silhouettes and witness the rise of future fashion? You can go to www.novafashionweek.com and find out how you can witness the birth of a dynasty.





Demour Inc.