Francis Hooper as Guest Designer at iD Dunedin Fashion Week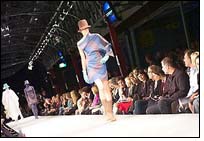 Internationally acclaimed fashion label WORLD are set to sparkle as special guest designer at the tenth anniversary of the Southern Trust iD Dunedin Fashion Show on Saturday 14 March 2009.

Key Points
• Francis Hooper, WORLD's chief designer will feature stunning showpiece items of opulent eveningwear from WORLD's winter 09 collection "There Is No Depression In New Zealand" incorporating Swarovski Crystallized Elements.

• Inspired by the desire to encourage New Zealanders to put their "best foot forward", Hooper wants the public to positively shine and embrace looking good and feeling great. WORLD's collection promises to dazzle the audience with a glamourous evening of unforgettable luxury fashion, celebrating ten years of iD Fashion Week.

• Benny Castles, WORLD's menswear designer will also attend alongside Hooper at the iD Fashion Show.

• WORLD recognises the valuable role iD Fashion Week has in encouraging and supporting new and emerging New Zealand and international talent. In supporting the event, Hooper will also attend as a guest judge at the Southern Trust iD Emerging Designer Awards on Friday 13 March.

• WORLD is known for defying the norm in fashion design.

Staying true to their own sense of creativity they create hallmark collections which transcend fleeting trends and are beautiful, exciting and sexy. Ultimately, this has led to their success as a global label which has attracted international media attention and is stocked in a number of countries overseas including Hong Kong, Australia, Beirut, Britain, Ireland, Italy, United States, Russia, Japan and China.

Francis Hooper – Chief Designer, WORLD, www.worldbrand.co.nz
"We think iD is an amazing week of events and gob-smackingly cool! Finally, we have been able to clear our diaries to be part of an event that breeds incredible creativity. The city of Dunedin and its perceived isolation, is a factor that makes it so unique and the creativity that takes form in new design talent. The spirit of iD truly resonates with our WORLD brand. We consider ourselves to be different, innovative and encourage creativity and experimentation in the love of fashion – everything that iD represents and celebrates."

Victoria Bunton – Event Co-ordinator www.id-dunedinfashion.com
"We are so excited to have WORLD as guest designer for our tenth anniversary. WORLD is a well-established and highly respected label. WORLD tends to push the boundaries in fashion design and their collection will create huge audience appeal and will bring a different dimension to the event."

About the 2009 Southern Trust iD Dunedin Fashion Week – 10-15 March 2009.
2009 is a milestone event for the iD Dunedin Fashion Week as it celebrates its 10th birthday. iD Dunedin Fashion Week is the week the city comes alive to celebrate its distinct style, fashion identity and industry, with collaboration between the local fashion sector, the tertiary institutions and the supporting industries which allow the fashion sector to grow and evolve.