TBA to promote highly innovative products in style at Fashion Access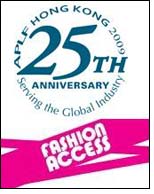 As the organiser of several international exhibitions and events in the fashion accessories, leather and apparel fields we are well placed to gauge the sector's reaction to changing market needs and conditions.

We get the same stories of economic gloom and doom as everyone else but there is some good news too: companies that have innovated with fresh products, sought new markets, and boosted their sales and promotional activities.

A substantial number of these companies will be participating in the March exhibition of Fashion Access (FA), the twice a year event which is Asia's most international trade fair for Bags, Footwear, Travelware, Garments & Lifestyle Accessories. FA will be held as always in Hong Kong Convention and Exhibition Centre from 31 March to 2 April.

The theme will be 'Let's Go ... Fall Winter 2009/10'. Trends, in colours, materials and designs for this season will feature prominently throughout the exhibition.

FA continues to receive strong support. At time of writing the following group pavilions have confirmed their participation: Bangladesh, Brazil, China, Hong Kong, India, Japan, Korea, Pakistan, the Philippines, Taiwan and Thailand. Some of these have decided to expand their exhibition areas. The Japanese pavilion will host 41 participating companies - some 80% over the previous event. The Brazilian footwear pavilion will bring with 10 companies to occupy the exhibition area with 120 square metres. Among the Brazilian footwear companies, Via Uno will exhibit for the first time with a large stand in the Fashion Avenue.

Responding to the demand for lifestyle travelware, FA spotlights this fast growing market segment. The Taiwan Bag Association (TBA) will be actively promoting their highly innovative products in style.

FA will host 58 new companies exhibiting for the first time. These are from Brazil, China, Hong Kong, India, Korea and Taiwan and they will display a wide range of trendy and quality fashion products for the forthcoming season.

No one denies that present trading conditions are difficult and likely to remain so for some time. Nonetheless, many exhibitors express a degree of confidence about the future.

For example:
Tact Concept
Rex Kwong, the Marketing Director of Tact Concept in Hong Kong, says: "My company's business has grown thanks to Fashion Access. I have exhibited for more than 6 years and I met my main customers there, who placed large volume orders. Some of my key customers (suggested) that I start developing lines of leather garments and fashion accessories. I have now started a new business with my own collections under the brand "Onm". We will participate despite the current economic crisis and uncertain future, as Fashion Access is a must attend fair for our customers".

Polida (HK)
First time exhibitor at Fashion Access this March will be Polida (HK). The company's Hawkins Hung says, "While there are thousands of exhibitions all over the world APLF's global reach and impressive presence in Hong Kong and mainland China attracts a large number of well respected foreign and domestic buyers. At Polida (we) are excited about displaying our products .. Which is why we chose FA."