fMM&T set to serve growing footwear manufacturing sector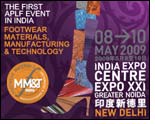 fMM&T'09 is the fair the footwear industry is waiting for.The footwear market is growing at such a fast rate that Indian manufacturers need to meet regularly with their international and local suppliers to keep abreast of the latest trends happening in this industry.

fMM&T'09 would witness the entire fraternity of the footwear and leather industry including manufacturers of footwear, leather garments, importers, exporters and distributors of leather components, designers, brand owners and product developers.

Exhibitors ranging from various sub-verticals of the footwear & leather industry would display raw materials including hides & skins, Rubber, PVC, TPR, PU, Natural fibers and Materials, High Performance Fabrics, Finishing Chemicals & Dyes, Shoe Machinery Equipment & Tools, CAD-Cam design and supply chain software technology and other services.

In many instances, the products to be displayed will be completely new to Indian buyers. As the major footwear production is based in Agra, which is in North India, the venue of fMM&T '09 is conveniently located in Greater Noida on the expressway leading to New Delhi. The international aspect of the event would be seen in the form of themed pavilions from various countries such as Brazil, China, Italy, Spain, Hong Kong and Taiwan.

For Companies confirmed as on date Click here:

Above all, fMM&T '09 will witness over 200 exhibitors from over 15 countries spread out over an area of 7000 sq. metres.
fMM&T 09 will run for three days, from May 8 -10, 2009, and will be held at the India Expo Centre, Expo XXI, in Greater Noida, New Delhi.

The Indian footwear market -a major uprising
Even in today's recession-hit scenario the Indian economy is still growing at a 7% growth rate when many countries are reporting a negative growth rate, one other reason is the large domestic consumption of footwear within the country because of the large population especially the Middle and Upper segment and in metros and 2nd level cites within the country. Shoe making remains highly labour intensive as the industry is also an important source of employment, especially for semi and unskilled workers.

Due to the encouraging support from the government policies with reference to the Indian footwear market, India has witnessed promising technology inflow and Foreign Direct Investment. The entire leather sector is now de-licensed and de-reserved, paving way for expansion on modern lines with state-of-the-art machinery and equipments.

As per the latest Indian footwear market trend, the consumer demand has witnessed a steep rise especially in North India, which is also a major hub for production of footwear and components.

fMM&T 09 is aimed at creating a bridge between the footwear manufacturers and the component producers targeting the vast Indian footwear market.

The Organisers
fMM&T brings together two highly experienced organisations : The Indian Footwear Components Manufacturers Association (IFCOMA) and APLF.