Schwarzkopf & Aavaranaa Boutique to host 'Fusion Creation 09'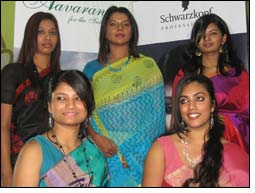 Give your looks the best shot on any sparkling day or night, when the camera flashes, let it flash only on you! The best adorned saree, the charismatic smile, the splendid hair makeover by the best technicians in town, all it takes is, few experts to direct changes and "Fusion Creation '09" have it all!

Through this event Aavaranaa Boutique and hair-care major Schwarzkopf Professional had come together to celebrate the resilience of every progressive woman on 2nd Feb'09 @ Alwarpet – Aavaranaa Boutique.

Fusion Creation '09 portrayed the ever changing fashion vogue, where there is a new trend which is born and flourished everyday. The collection also witnessed a merger of a spectrum of glimmering colors with flamboyant arrays of fabrics, elite assortment of designs and patterns which teamed apt with the unleashed creativity of the hair experts through powerful hair makeover techniques, creating an overall impressive look. A range of exquisite new-age expression sarees & chick fashion hair looks were donned on models.

Ankita Madan, Technical Advisor – Schwarzkopf Professional is an absolute pro in the hair realm and specializes in creative and corrective hair cutting, coloring & texturizing. She observed that "hair fashion has leap frogged into a whole new dimension today and has what it takes to make a serious style statement. Through these makeovers which have been exotically & rightly blended with the ethnic wear adorned by the models we are now all set to make heads turn!!"

Pretty excited about the event, Vijayalakshmi Krishna, Managing Partner – Aavaranaa comments –"we continuously reinvent Indian ethnic wear for the modern woman with our fabrics, craftsmanship & contemporary themes – and through this event we believe we would be able to change the mindset of the masses towards how a saree is perceived in modern world and also highlight how the brilliant blend of international looks with an ethnic wear compliment each other.

We at Aavaranaa strive our best to redefine the art of saree making to give "tradition" a new meaning and this new collection promises our patrons to fall in love with our creation & cut work."

Speaking on the "Fusion Creation '09", Murali Sundar, Country Manager – Schwarzkopf Professional concluded by saying "Hair is more than a passion for all of us at Schwarzkopf Professional and to be able to go one step further and participate in this tribute to Indian Woman is a great feeling! We in fashion business know just how the right looks and good grooming works as an incredible confidence booster and are glad we can help."

Aavaranaa:
Creating a niche for itself in the women's apparel segment, Aavaranaa is an exclusive saree boutique specializing in a variety such as silks, tussars, georgettes, crepes and chiffons. Aavaranaa is currently present in Chennai and in Coimbatore.

A sapling amongst its competitors, Aavaranaa, is still in the nascent stage of development. However, their current retail presence is over 2500 sq ft. Aavaranaa set out to create a revolution in the silk saree segment in Coimbatore in the year 2001 and further stepped into Chennai in 2006.