Showcase of Swarovski Elements platform at IIFJAS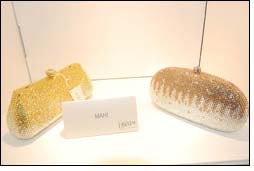 CRYSTALLIZEDTM – Swarovski Elements, the crystal elements brand from Swarovski showcased creative collaborations in jewelry at the India International Fashion Jewellery and Accessories Show.

Date: 22-Jan-2009 to 25-Jan-2009
Location: Bombay Exhibition Centre, Mumbai

Leading designers and brands showcased a collection of spectacular jewels and accessories Made with CRYSTALLIZEDTM – Swarovski Elements at the CRYSTALLIZEDTM – Swarovski Elements platform, IIFJAS 2009.

Enthusiastic about the growing potential of this segment in India, Mr. Sanjay Sharma, Country Head, CRYSTALLIZEDTM – Swarovski Elements said, "The Fashion jewelry & accessories market in India is witnessing a fresh and dynamic growth. Our aim is to support the fashion jewelry industry and further this growing business by providing a variety of creative and innovative solutions to match the needs of the industry, designers, brands and consumers.

Today we are delighted that fashion jewelry & accessories Made with a variety of CRYSTALLIZEDTM – Swarovski Elements are the preferred choice of the discerning consumer and CRYSTALLIZEDTM – Swarovski Elements are an integral part of both daily wear and bridal jewelry."

The 22 creative partners are: Ana Singh, Aswera, Catwalk Worldwide Pvt. Ltd., Surjit Bajaj, Estelle, Farah khan, Joy Shoes, Manish Creations Pvt. Ltd., Mahi, Manish Arora, Meera Mahadevia, Mumtaz and Pallavi, Niche, Punita Trrikha, Purab Paschim by Ankit Khullar, Radium Creation, Shantanu Goenka, Shree Jewelers, Solemn International, Suhani Pittie, Suneet Varma and Tarun Tahiliani.

Renowned for their precision-cut brilliance, their thrilling innovations, CRYSTALLIZED – Swarovski Elements inspire designers, fire imaginations and bring an inner radiance to the heart and soul of every object they touch, every person who wears them. This life-enhancing quality, celebrated by the new product brand, has exerted a powerful influence on leading design talent in every age, while today, customers ask for the crystals by name.

In 1895, Daniel Swarovski I, a Bohemian inventor and visionary, moved to the village of Wattens, Tyrol in Austria, with his newly-invented machine for cutting and polishing crystal jewellery stones. From this beginning that revolutionised the fashion world, Swarovski has grown to be the world's leading producer of precision-cut crystal, for fashion, jewellery and more recently lighting, architecture and interiors. Today, the company, still based in Wattens, family-owned and run by 4th and 5th generation family members, has a global reach, with some 22.000 employees, a presence in over 120 countries and a turnover in 2007 of 2.56 billion Euros. Swarovski comprises two major businesses; one producing and selling loose elements to the industry and the other creating design-driven finished products.

Swarovski crystal components, known by their product brand names CRYSTALLIZED - Swarovski Elements for fashion and STRASS Swarovski Crystal for architecture and light, have become an essential ingredient of international design. Since 1965 the company has also catered to the fine jewellery industry with precision-cut genuine and created gemstones, and from April 2008 has strengthened this relationship by revitalising and renaming the product brand ENLIGHTENED - Swarovski Elements.