Protege to debut exciting line of footwear & apparel at Kmart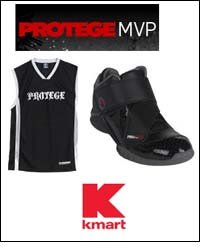 In a move that is sure to be a "slam dunk" with teens and young men, the Protege brand of prestige, affordable footwear and apparel will make its debut exclusively in Kmart stores and at www.kmart.com in February 2009. Protege, a "give back" brand created by NBA star Al Harrington, was designed so that basketball enthusiasts of all ages and income levels can have high-quality, stylish shoes and apparel, just like the pros wear, while empowering the community and giving hope, inspiration and confidence to young people.

Protege has assembled some of the athletic sportswear industry's best creative talent to build a unique collection distinguished by edgy, confident styling and court-ready, high-quality construction with technical features rivaling shoes at 3-4 times the price. The Protege line has been personally tested on-court by Harrington, a New York Knicks forward, and Stephen Jackson of Oakland's Golden State Warriors, who both play and practice in their Proteges.

"We're proud that Protege has chosen to launch its exciting line of footwear and apparel exclusively at Kmart," said Nick Grayston, who serves as president of the company's footwear division. "Not only does Protege support the Kmart Smart commitment to offer our customers exclusive brands and quality products at prices they can afford, the team at Protege also is equally committed to giving back to the communities we serve."

The Protege footwear line features an all-star lineup of on-trend styles for men and boys. The men's footwear line, available in sizes 7-16, features five sneaker styles. The three boys' styles are available in sizes 13-6. The Protege apparel line also includes casual styles for men and boys, featuring performance shorts and t-shirts.

"When I was growing up, my mother would give me $200 at the beginning of each school year to buy clothing and shoes for myself and my two siblings," said Harrington. "It was tough to find affordable sneakers that also offered court-ready craftsmanship, style, class and comfort."

Harrington recognized his childhood experience was not atypical for many aspiring basketball players across the country - leading to the creation of the Protege collection and a tireless dedication to provide educational and life-enriching opportunities to help children fully develop and realize their potential.

The launch of Protege is part of Kmart's footwear re-launch which will feature new and exclusive brands both in stores nationwide and online beginning in February 2009. The footwear re-launch is designed to help Kmart customers fulfill the needs of their families, without sacrificing shopping expectations related to value, fashion and performance.

To celebrate its partnership with Protege and its commitment to providing affordable, quality footwear, Kmart is donating one million pairs of shoes to Samaritan's Feet, a humanitarian relief organization that provides footwear to children in need around the world, many of whom have never had a pair of shoes of their own. The goal of Samaritan's Feet is to provide 10 million pairs of shoes for 10 million impoverished people in 10 years. Kmart's donation - the single largest in the history of Samaritan's Feet - will help the organization complete that mission an entire year earlier than scheduled. The donation, which has the support of Protege athletes Harrington and Jackson, will be distributed around the world in the 42 countries that Samaritan's Feet currently serves.