Fresh faces, fierce fashion - Bride Show Dubai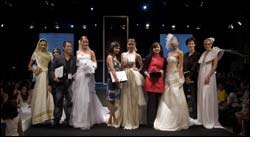 One of the region's most celebrated fashion design competitions is calling for entries giving untapped creative talent in Dubai and the Middle East an opportunity to shine in the spotlight.

The CRYSTALLIZED Young Designers Award is back at The Bride Show Dubai, with the prospect of national recognition and a fashion internship on the line for the winning entrants.

The popular competition is seeking fashion students and amateur designers with creativity and talent, in order to throw the spotlight on their abilities before the thousands of visitors who will descend upon The Bride Show Dubai from 8 – 11 April 2009. The awards are a great opportunity for anyone looking to break into the notoriously tough fashion industry.

Applicants are asked to send in outlines of their creative influences, their vision and basic designs of their ideal wedding dress, in celebration of The Bride Show Dubai. Closely weighing each application, a panel of high-profile judges from the region's fashion industry will select ten finalists in the Student and the Amateur design categories.

With help from workshops and mentoring from sponsor Swarovski Middle East to develop their skills, along with 1,000dhs of CRYSTALLIZED – Swarovski Elements for embellishment, the finalists' wedding dresses will be brought to life as each design is displayed on the catwalk by professional models on the last day of The Bride Show Dubai.

The overall winner of the Innovation Award will win an internship at Swarovski Middle East or another dedicated fashion house. Furthermore, winners of each category will receive a trophy and vouchers from Swarovski Middle East.

Entrants are traditionally asked to take inspiration in a specific theme for the Awards. This year's theme, 'Gypsy Rose', is sure to inspire free-spirited, imaginative designs as the creative hopefuls lay out their vision for the ideal dress in which to say 'I do'.

The Bride Show Dubai is the largest and most prestigious bridal exhibition in the Middle East, making it the perfect arena for budding fashion stars to showcase their unique wedding dress creations to prospective brides and their families.

"Now in its 10th year, the CRYSTALLIZED Young Designers Award is a well entrenched success at The Bride Show Dubai," said Daphne Cota, Exhibition Manager for The Bride Show. "We are always thrilled to showcase up-and-coming talent, and we know from the enthusiastic audience response that our visitors are equally proud to see local creative talent in the spotlight and on the catwalk."

Swarovski, the world's leading producer of precision-cut crystal, was established in 1895 and has, since its earliest days, worked hand in hand with leading designers and couturiers. CRYSTALLIZED – Swarovski Elements, the company's product brand for the innovative and inspirational loose crystal elements, pays homage to the company's long history of mutually creative collaboration with the world of fashion.