Brandhouse inks JV with Italian apparel brand Oviesse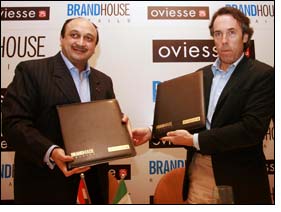 Brandhouse Retails Ltd. (BHRL), one of the leading fashion retailers in India, announced its joint venture with Italy's leading apparel brand 'Oviesse'. This brand would address young India and provide affordable 'fast fashion' for men, women and kids.

The total equity investment in the JV will be ~Rs. 161 crores over 5 years for setting up of 190 stores across Metro/Tier1/Tier2 cities. In the terms of the agreement Brandhouse will hold 62.5% of the total equity while the balance 37.5% of the equity will be in the hands of Oviesse.

A market leader in the Italian clothing industry, with over € 820 million net sales, Oviesse today is a reference point in the "fast fashion" industry. It has given shopping a new meaning, based on a constant renewal of fashion clothing, quality and smart pricing. It currently has a network of more than 340 stores in Italy and abroad. Oviesse is a part of Gruppo Coin which also manages the high fashion department stores in Italy under the brand name COIN.

The JV will be exclusive to the Indian Territory and has planned to set up 190 stores over the next five years. The store rollout is expected to commence later this year. The JV will, for the first year, import the merchandise from Italy and thereafter will introduce local sourcing / manufacturing in a phased manner. However, even with local sourcing/ manufacturing, the designing & styling will continue to be totally Italian.

Announcing the joint venture with Oviesse, Nitin Kasliwal, Chairman, Brandhouse Retails Ltd said, "Indian fashion industry faces a huge gap especially for fast fashion, at affordable prices. The youth today are exposed to international trends and seek high fashion, which in India is not available and definitely not at affordable prices. With this JV, we would be ideally suited to address this huge demand amongst the youth across the country.

Looking at this gap in the market, we are delighted to partner Oviesse who have a vast experience in addressing this segment. With this JV, we now move a step closer towards the group philosophy – 'clothiers to the nation, today – the world tomorrow. "

Speaking on the occasion, Stefano Beraldo, CEO, Gruppo Coin said "The success of Oviesse lies in capturing the essence of Italian fashion at affordable prices. It can best be described as a 'fast fashion' brand providing quality merchandise at best prices. Apart from its success in Italy, Oviesse is a big hit in new markets in Europe and the Middle East. India is today in the radar of most international companies. With its huge population of youth, we see it as a perfect market for the Oviesse brand. "

Brandhouse is a part of the SKNL Group which also includes other companies like SKNL and Reid & Taylor India Ltd. Currently Brandhouse Retails is the master franchisee for brands like Reid & Taylor, Belmonte, Carmichael House & Stephens Brothers. Additionally, it is the Exclusive India franchisee for International luxury brands like Alfred Dunhill.

Oviesse is a part of Gruppo Coin, Italy's leading clothing retailer with a turnover of over 1.1 billion Euros. Based in Mestre, Italy, Oviesse is a benchmark in fast fashion with over 11 million customers shopping at their store every year, which amounts to a sale of over 100 million garments at a revenue of over €820 million.

Brandhouse Retails Ltd.