Exclusive Perrelet timepieces decorate wrists of sports celebrities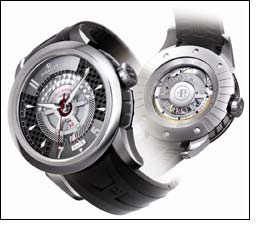 Perrelet, the most distinguished brand of exclusive timepieces founded by master watchmaker Abraham-Louis Perrelet has charmed top sportsmen of the world such as the unrivalled star of international football, Christian Karembeu who has succeeded in imposing his own style over a 15-year career and the tennis stars, the Bryan brothers.

A spokesperson from Damas Watch Division commented:
"Complicated, exclusive, classical, sophisticated or sporty, Perrelet watches match your expectations, whatever your lifestyle. For more official evening occasions, Christian stands out this time with the elegant Chronographe Squelette with second time zone. Comprising several hundred components individually decorated by hand, this chronograph invites the ob-server to go on a wonderful journey meandering among of its intricate mechanisms.

"Top seeds for many years, and bronze medallists at last year's Olympic Games in Beijing, Bob and Mike, the Bryan brothers, are two professional doubles icons. Disarmingly simple, inseparable and complementary, one right-handed and the other left-handed, the Bryan brothers are already tennis legends, although only just be-ginning their careers."

Christian Karembeu began his career in France in 1990. As an international player, he built his reputation successively in Italy, Spain, England, Greece and Switzerland. The highlight of his career was winning the World Cup as a member of the French national team in 1998. Unique and exceptional, like the Perrelet watches he has chosen to wear, the record of achievements of this champion blows your mind. Although Christian Karembeu hung up his boots in 2005, he is no less an active and unstoppable personality in the world of soccer. As a consultant commentator for the matches broadcast by French television and Orange TV, Christian is also an ambassador for his country of origin.

Between matches, flights and the charitable associations with which he is involved, Christian likes to visit certain places in Paris. This is where a Perrelet showcase caught his attention, at his friend François Duran's boutique, in Avenue Niel, which has a 'Concept Store' for men, an atypical point of sale at the heart of Perrelet's traditional distribution network. A watch enthusiast, Christian Karembeu fell in love with the brand at first sight.

Today, he proudly wears the sporty and highly-profiled Double Rotor Titane, the symbolic reference model of Perrelet's high-tech collection. What other model would be more suitable day-to-day accessory to accompany this dynamic, joyful man on a daily basis, than this watch with its futuristic conception and vision?

The winning pair of Bryan brothers has naturally caught the imagination of Perrelet, for whom the connection was self-evident. In tennis, the doubles discipline remains a spectacular and exciting speciality, and all the more so when practised by twin brothers, whose reputation is keeping pace with their victories. The perfect precision and osmosis required during a match are curiously reminiscent of the brand's symbolic model, the Double Rotor.