'Standing Room Only' at APLF Fair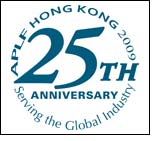 OK, no one will be asked to stand, but prime exhibition space is at a premium, while exhibitor numbers and pre-show buyer registrations are strong.

All in all APLF - Materials, Manufacturing & Technology (MM&T), and Fashion Access (FA) exhibitions, to be held in Hong Kong, 31 March - 2 April 2009, show encouraging signs ensuring that APLF will be the centre of attraction for all industry buyers and exhibitors alike.

This year APLF is celebrating its 25th Anniversary, an occasion which, in itself, demonstrates the ability of the industry to change as new demands arise: and in APLF's ability to rise to those demands. Industry associations from Bangladesh, Brazil, Egypt, Pakistan and Turkey have generously invested in APLF as sponsors.

There will be a packed programme of seminars, workshops and 'round table' discussions: reflecting an ever-growing demand for such events over recent years.

If there is a mood of some optimism as APLF in Hong Kong approaches it is based on more than just wishful thinking.

An early precursor came from the recent Indian Leather Fair, held in Chennai which offered to many a surprisingly up-beat start to the year. The Chennai event included a good number of overseas exhibitors, across most industry sectors, and generated actual business, including equipment sales.

It's generally true that companies who attend major international trade exhibitions tend to be the better run, more innovative, and more profitable - and hence less prone to savaging sales and promotional budgets - unlike their less successful competitors. That certainly is in the minds of international buyers who are always in search of better products, ensured supply and keener pricing levels.

APLF offers the place and the occasion for precisely this process: quality buyers attend seeking quality suppliers. But there is much more than that. The well known industry observer, Mike Redwood, notes in his weblog "One function of trade fairs today, more than selling, is as a meeting place where one can catch a feeling for trends and pricing, do some informal benchmarking, and meet lots of colleagues that it would be impossible to get together with face-to-face otherwise. For all the power of the Blackberry it can only be a supplement to face-to-face meetings, never a replacement".

The global economy is undeniably turbulent, affecting Small and Medium-sized Enterprises (SMEs) especially hard. The other side of the coin, however, is that new opportunities open up.

Three + One + One (New One)
In addition to MM&T and FA one other important event runs concurrently: Prime Source Forum (PSF), the annual meeting ground for the global apparel industry. Delegate numbers are buoyant with representatives from many leading global brands in attendance.

Looking further into 2009 the well-established All China Leather Exhibition (ACLE) in Shanghai, 2 - 4 September 2009, could well be the biggest yet. Last year ACLE marked its 10th Anniversary.