'2008 is another record year for the company' - adidas CEO, Chairman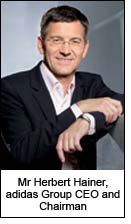 Fourth quarter Group revenues grew 4% on a currency-neutral basis. This development was due to higher sales in the adidas segment. Reebok and TaylorMade-adidas Golf revenues declined. On a regional basis, currency-neutral sales grew by double-digit rates in both Asia and Latin America. Revenues in Europe remained stable on a currency-neutral basis, while sales in North America decreased. Currency movements had a positive impact on revenues in euro terms. Group sales in euro terms increased 6% to € 2.574 billion in the fourth quarter of 2008 (2007: € 2.419 billion).

Fourth quarter net income attributable to shareholders increases strongly
Fourth quarter gross margin declined 0.2 percentage points to 46.4% (2007: 46.6%). A higher gross margin in the adidas segment could not offset declines in the Reebok segment as a result of higher clearance sales at lower margins and in the TaylorMade-adidas Golf segment. At TaylorMade-adidas Golf, a promotional golf retail environment had a negative effect on gross margin development.

Group gross profit grew 6% to € 1.194 billion (2007: € 1.127 billion). Net operating expenses and income as a percentage of sales decreased mainly due to lower marketing expenses in the adidas segment. The realisation of a book gain in an amount of € 21 million related to the acquisition of Ashworth, Inc. was partially offset by restructuring costs and other one-time expenses of € 7 million.

As a result, the Group's operating margin increased 1.7 percentage points to 4.2% in the fourth quarter of 2008 versus 2.5% in the prior year. Operating profit grew 77% to € 107 million versus € 61 million in 2007. The Group's net income attributable to shareholders increased 151% to € 54 million (2007: € 21 million) due to higher operating profit and a lower tax rate. The Group tax rate declined strongly as a result of one-time tax benefits. Net financial expenses, however, increased primarily as a result of net foreign currency exchange losses resulting from the revaluation of balance sheet positions in foreign currencies.

adidas Group currency-neutral sales grow 9% in 2008
In 2008, Group revenues increased 9% on a currency-neutral basis, as a result of strong sales growth in the adidas and TaylorMade-adidas Golf segments. Currency translation effects negatively impacted Group sales in euro terms. Group revenues grew 5% in euro terms to € 10.799 billion in 2008 from € 10.299 billion in 2007.

"2008 was another record year for our Group," commented Herbert Hainer, adidas Group CEO and Chairman. "This performance is clearly a testament to the underlying strength of our business model - being global, diversified and consumer focused."

adidas and TaylorMade-adidas Golf segments drive top-line performance
The adidas segment was the most significant contributor to Group sales growth in 2008. Currency-neutral adidas segment revenues increased 14% during the period, driven by double-digit increases in all major performance categories. Currency-neutral sales in the Reebok segment decreased 2% versus the prior year. Growth in the running category was offset by declines in most other categories.