'Two Decades of Glamour' features Badgley's strong relationship with Hollywood finest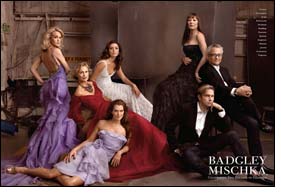 Iconix Brand Group Inc announced that Eva Longoria, Carrie Underwood, Brooke Shields, Lauren Hutton and Anjelica Huston will appear in its Badgley Mischka brand's 20th anniversary celebration campaign. The 20th anniversary campaign will debut in April issues of magazines such as Vogue, Elle, Harper's Bazaar and InStyle. The campaign features the tagline, "Two Decades of Glamour," symbolic of Badgley Mischka's strong relationship with Hollywood over the past twenty years.

The campaign was shot by legendary photographer Annie Leibovitz at Paramount Studios in Los Angeles. The ladies posed along with designers, Mark Badgley and James Mischka in classic Leibovitz style. Each of the women featured in the campaign is wearing Badgley Mischka couture eveningwear and accessories.

Eva Longoria commented on the experience, "Badgley Mischka is an iconic brand and to be able to celebrate their twentieth anniversary with them is an honor for me."

"I love Badgley Mischka for not only making the most beautiful gowns, but also for bringing together such strong, amazing women to celebrate 20 years of glamour and fashion. I am thrilled to be part of their special anniversary," stated Carrie Underwood.

Mark Badgley and James Mischka, stated, "The Badgley Mischka philosophy is not about an age, but being glamorous at any point in your life. We had Carrie Underwood, Eva Longoria, Brooke Shields, Lauren Hutton and Anjelica Huston, this amazing assembly of women from five different decades and the common thread among all of them was glamour."

Commenting on the photo shoot, Brooke Shields, stated, "This was a moment in time for me to be here with women that I admire, younger and older and with these two men who really appreciate women and design for them."

Commenting on the campaign concept, Dari Marder, Chief Marketing Officer, stated, "Creatively we wanted to showcase Mark and James' philosophy of glamour at any age, so Annie Leibovitz was the natural choice to shoot the campaign because of her iconic style of photography. She truly captured the essence of the campaign, 'Two Decades of Glamour.'"

Anjelica Huston commented, "The first time I wore a Badgley Mischka gown was to the Academy Awards and I have often worn their clothing since then. Their designs are classic and glamorous."

Lauren Hutton added, "The great thing about Badgley Mischka's clothes is that they have always been more about style than fashion -- in the end, making them utterly timeless. Their clothes bring out the personality of the wearer, as opposed to a fantasy persona, which makes them very special."

Over the past twenty years, Badgley Mischka has flourished into a true lifestyle brand recognizable worldwide. To date, the Badgley Mischka label includes: Badgley Mischka Couture, Eveningwear, Handbags, Eyewear, Footwear, Accessories, Jewelry, Watches, Swimwear, Fragrance, Home, Bridal and Bridesmaids. Badgley Mischka is sold in the most prestigious stores in the world including Bergdorf Goodman, Neiman Marcus, Saks Fifth Avenue and Holt Renfrew.