JJ Valaya as Wills Lifestyle Grand Finale Designer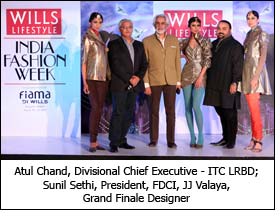 Wills Lifestyle, ITC's premium fashion brand, announced that JJ Valaya – Czar of Indian fashion industry will be the designer for the Wills Lifestyle Grand Finale at the forthcoming Wills Lifestyle India Fashion Week. The collection for the finale - 'Kingdom of Love' will convey an indispensable declaration abolishing all things negative and violent; almost as an antidote to the gloom and doom of today's times.

JJ Valaya will also create an exclusive collection for Wills Lifestyle that will be retailed from Wills Lifestyle stores across the country.

Announcing this at the Wills Lifestyle store, South Extension, Atul Chand, Divisional Chief Executive - ITC's Lifestyle Retailing Business Divison, said, "Wills Lifestyle Grand Finale has always set new benchmarks in creativity and have been a great mix of fashion and entertainment. This season one of India's most distinguished and notable fashion designers, JJ Valaya, will be taking the same tradition forward and will create magic on the ramp in his signature style."

He further added, "With these collaborations, we continue to remain deeply committed towards building a strong platform for Indian fashion and furthering the agenda of promoting the Business of Fashion. Our aim is to make designer wear accessible and relevant to our customers by partnering with some of the most respected names in Indian fashion industry."

Mr. Sunil Sethi, President, FDCI said, "We are delighted to have JJ Valaya as the Wills Lifestyle Grand Finale designer at the forthcoming edition of the Wills Lifestyle India Fashion Week. He is one of the most sought after designers in India, well known for his excellence in design and clothing construction and has had an exemplary design career behind him.

He further added, "JJ is the perfect choice for this, as his style is larger than life and goes well with the concept of the Wills Lifestyle Grand Finale. We at FDCI appreciate the initiatives taken by Wills Lifestyle to make designer wear more accessible through these tie ups."

Speaking on the occasion, JJ Valaya said, "It is indeed an honor to be the Wills Lifestyle grand finale designer. The Wills Lifestyle India Fashion Week platform is a powerful one and I hope to be able to create a collection that will delight the patrons of the label. It is a significant engagement between both the brands and I am sure the audiences will be thrilled to view the show and access the creations on display."

He further added, "The collection should hopefully put across the sentiment that I personally believe in…that life is all about positivity and progression. Having said that I have always believed that words can never quite replace the feeling of watching a brilliant execution of an inspiration unfurl before ones very eyes"

Firmly entrenched in his throne, JJ Valaya dons the mantle of the kingdom's maverick maharaja and claims that "He was thinking about how fickle mortals today are…how easily they collapse under pressure…and how decreased in the capacity to fight back for what is rightfully theirs".