Poznan International Fair registers great number of merchandisers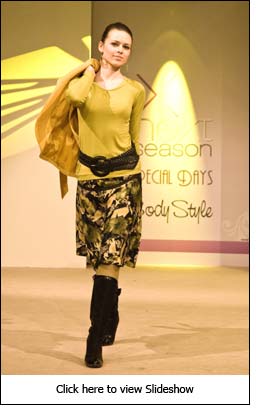 5200 professionals visited the largest in Poland fashion fair which took place on 3-5 March 2009 in the premises of Poznan International Fair. Among our guests were polish edigners Grazyna Hase and Bernard Ford Hanaoka.

March elite Contracting Exhibitions: Next Season, Special Days, Body Style quoted 5% increase in the number of registered merchandisers! In the Salon reception representatives of retail shops, boutiques, shopping chains and centres, shopping malls, representatives of trade agencies registered. Majority of visitors were from Poland, there was also a great number of merchandisers from Germany, Lithuania, Czech Republic and Sweden.

In Poznan, collections of women's, women's and children wear and accessories for autumn/winter season 2009/2010 were also contracted by traders from Belarus, France, Greece, the Netherlands, Latvia, Ukraine, Italy, Great Britain.

120 journalists accredited with the fair, representing editorial staff of industry magazines, daily newspapers and regional TV stations.

Contracting in Exhibitions
New location and attractive arrangement of the Contracting Exhibitions: Next Season, Special Days, Body Style positively surprised the merchandisers.

In the Contracting Exhibition NEXT SEASON trade representatives could see and contract collections of more than 300 Polish and foreign ready-to-wear fashion brands for women, men, youth, children, for formal occasions, evenings and accessories.

Exhibitors of BODY STYLE Exhibition of Lingerie and Beach Fashion offered more than 40 European brands of exclusive and sport lingerie, thermoactive underwear, pregnancy, slimming underwear and technologically advanced 21st century underwear – with intelligent effect of long-term comfort regulation, protecting from UV light, with anti-bacterial finish, seamless

Colour-labelling of individual fashion segments and specially prepared exhibition plan facilitated orientation in the offer of Contracting Exhibitions. Colour-card for autumn/winter 2009/2010 season was also a support for merchandisers, prepared in form of practical bookmark and trade shows on the catwalk in pavilion 5.

Issues of tendencies in design, directions of trade development and creating and significance of brands were presented in the cycle of seminars and presentations taking place in the speaker's corner space of Tex-Style Trade Fair of Fabrics, Clothing and Accessories.

An important point in the fair programme was a seminar by Wolfgang Gruschwitz, one of the best practitioners of Visual Merchandising in Europe, who worked, among others, for such brands as Massimo Dutti, Zara, Adidas, Högl Shoe, Burberry, Bershka, Olsen, Coca Cola, Red Bull.

Specialist in arrangement and architecture of modern trade spaces and consulting in terms of visual brand communication, visiting Poznan upon joint invitation of Poznan International Fair and publisher of trade magazines Promedia, discussed key aspects of creating impressive and functional trade spaces, which by their atmosphere positively influence customers' emotions, as a result bringing about increase in sales.