FIT to salute Saks CEO Steve Sadove at benefit gala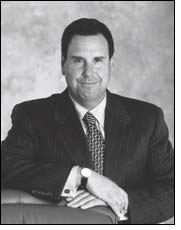 In recognition of his leadership in the retail industry, Steve Sadove, chairman and chief executive officer of Saks Fifth Avenue, honored by the Fashion Institute of Technology (FIT) and FIT's Educational Foundation for the Fashion Industries (EFFI) at the college's annual benefit gala on Thursday, March 19, 2009, at Cipriani 42nd Street, 110 E. 42nd Street, New York City.

"One Person, One Company, One College Make A Difference" is one of the largest and most important events on the fashion industry's annual calendar. The gala benefits FIT's Educational Development Fund, which assists the college with scholarships, technology, and student services, among other priorities.

Dinner chair is Ron Frasch, president and chief merchandising officer, Saks Fifth Avenue. Journal chair is Terron Schaefer, group senior vice president, Creative and Marketing, Saks Fifth Avenue.

"Steve Sadove has long been a great advocate of education and a valued friend of FIT," said Dr. Joyce F. Brown, president of FIT. "We are fortunate to have an industry leader such as Steve recognize that FIT's students are tomorrow's industry talent and that it is, therefore, prudent and wise to ensure that they receive a top-notch education in order to infuse the fashion business with ongoing intelligence, energy, and inspiration. We are immensely appreciative of his support and proud to honor him."

"It is an honor to be recognized by FIT, whose resources and education are best in class for the talented individuals pursuing careers in fashion and retail," said Sadove. "In the current environment, it is paramount that we continue to show support for those who stand to inherit our industry by affording them opportunity and the ability to cultivate their ideas and creativity."

As a special feature of this year's gala, twenty FIT students majoring in Accessories Design have been invited to demonstrate their creativity and talent to interpret black pumps, donated by Saks, as New York landmarks, such as the Empire State Building or the Brooklyn Bridge, using CRYSTALLIZED - Swarovski Elements. The shoes was on display throughout the evening, during which guests had the opportunity to vote on their favorite creation. The winner of the challenge will receive a $2,500 stipend, and all of the designs will be featured in 10022-SHOE, Saks Fifth Avenue's designer shoe salon.

Steve Sadove has served as a member of Saks Fifth Avenue's board of directors since 1998. He joined the Saks management team as vice chairman in 2002, became chief operating officer in 2004, and chief executive officer in 2006. He assumed his current position as chairman and chief executive officer in 2007.

Prior to joining Saks, Sadove built a distinguished marketing and consumer products career spanning more than 25 years. Between 1975 and 1991, he held various positions with General Foods USA, including executive vice president and general manager of the Desserts Division. Sadove joined Bristol-Myers Squibb Company in 1991 as president of Clairol.